Fearless Books for a Perilous Year: The New Press 2020 Gift Guide
Wednesday, November 18, 2020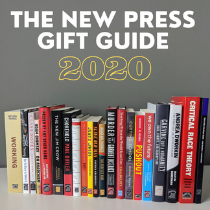 As 2020 draws to a close many of us are weary and frightened, but hopeful. While we've suffered under the pandemic and the police, we've also come together to build networks of aid, care, and solidarity. Record numbers of people took to the streets to protest the murders of Black people, braving arrest, beatings, sound cannons, and tear gas; 2020 opened a conversation about racism, equality, and justice that is now too loud to be ignored.
Whatever the uncertain coming months may bring, one thing is clear: Americans cannot complacently return to "normal." As we prepare to settle into the winter and celebrate the holiday season however we are able, it is a perfect time to learn the lessons of history—how we got where we are today, how we understand this moment in history, how we fight, and how we win a better future for all of us. The New Press is pleased to present this collection of indispensable titles, to give yourself, your family, your friends, your comrades, your colleagues, your neighbors—anyone and everyone. 
Get 15% off this collection through the end of the year when you shop at our store! Use code '2020' at checkout.

This summer the murders of George Floyd, Breonna Taylor, Rayshard Brooks, and many more Black people at the hands of the police sparked nationwide demonstrations and new conversations about what justice in our society really means. Whom is our justice system meant to protect? Whom are our police meant to serve? Our bestselling, award-winning titles on incarceration probe these questions, offering new transformative paths forward. 
Click here for our Criminal (In)Justice Gift Guide. 
The visibility of the Black Lives Matter movement against police brutality has drawn attention to a deeper conversation. If racism is embedded in our criminal justice system so deeply, in which other aspects of our society does it manifest? How did our country come to be structured along these lines? In these essential texts, people of color write about their struggles for liberation and a world where we are all truly free. 
Click here for our Social Justice and the Law Gift Guide. 
There can be no transformation of our world without imagination, and imagination is the bedrock of literature. In these spellbinding, poignant, often heartbreaking books, authors from around the world explore the struggles of ordinary people to survive and flourish in desperate historical moments.
Click here for our Fiction Gift Guide. 
Education is where capitalism, racism, and policing intersect, resulting in what we know as the "school to prison pipeline." These groundbreaking books investigate how privatization and reliance on testing have eroded our free public school system and reduced students to commodities; how racism encourages schools to view its young Black and Brown charges as inherently criminal, adult, and violent; and how policing has replaced care and guidance in schools. Each of these authors chart how education can be transformed to center, nurture, and guide students.
Click here for our Antiracist Education Gift Guide
COVID-19 has thrown the fragile state of American labor into sharp relief, as the Trump administration scrambles to further dismantle protections for workers. Proposition 22 has passed in California, with nationwide ramifications for workers under the ever-expanding "gig economy." Now more than ever, it is essential that workers recognize their power and understand what they can accomplish when  they organize. These essential volumes examine the history of the war against labor in the United States—and how workers have fought back.
Click here for our Worker Power Gift Guide 
What does it mean to resist? What tools do ordinary people have to counteract injustice, when the system is so much bigger and more powerful than we are? What is the potential and what are the limits of the strategies we've historically deployed? And what can we learn from successful—and unsuccessful—resistance movements across the world? These provocative texts explore these questions and more, helping light the way in turbulent times.
Click here for our Radical Theory and Practice Gift Guide 
The traditional construction of gender is one of the pillars of a capitalist society, for the creation of new generations of compliant labor. For decades, feminists and LGBTQ people have challenged those constructions, and faced violence to do so. These titles explore those struggles, and how through them we can learn to get free.
Click here for our Feminism and Queer Studies Gift Guide
For 15% off these titles when you shop at our store, use code "2020" at checkout.
Blog section: