Criminal (In)Justice Gift Guide 2020
Wednesday, November 18, 2020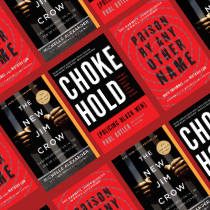 This summer the murders of George Floyd, Breonna Taylor, Rayshard Brooks, and many more Black people at the hands of the police sparked nationwide demonstrations and new conversations about what justice in our society really means. Whom is our justice system meant to protect? Whom are our police meant to serve? Our bestselling, award-winning titles on incarceration probe these questions, offering new transformative paths forward.
Get 15% off these titles when you shop at our store. Use code '2020' at checkout.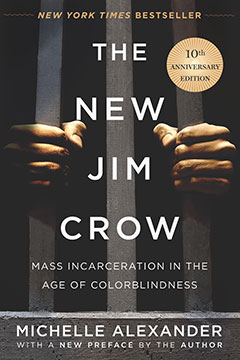 The New Jim Crow: Mass Incarceration in the Age of Colorblindness
Michelle Alexander
Seldom does a book have the impact of Michelle Alexander's The New Jim Crow. Since it was first published in 2010, it has been cited in judicial decisions and has been adopted in campus-wide and community-wide reads; it helped inspire the creation of the Marshall Project and the new $100 million Art for Justice Fund; it has been the winner of numerous prizes, including the prestigious NAACP Image Award; and it has spent over 250 weeks on the New York Times bestseller list and been widely heralded as one of the most important racial justice books of our time.
Most important of all, it has spawned a whole generation of criminal justice reform activists and organizations motivated by Michelle Alexander's unforgettable argument that "we have not ended racial caste in America; we have merely redesigned it." As the Birmingham News proclaimed, it is "undoubtedly the most important book published in this century about the U.S."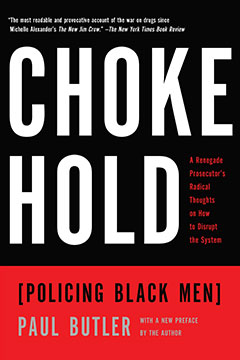 Paul Butler
Cops, politicians, and ordinary people are afraid of black men. The result is the Chokehold: laws and practices that treat every African American man like a thug. In this explosive new book, an African American former federal prosecutor shows that the system is working exactly the way it's supposed to. Black men are always under watch, and police violence is widespread—all with the support of judges and politicians.
In his no-holds-barred style, former federal prosecutor turned law professor and commentator Butler, whose scholarship has been featured on 60 Minutes and whose commentaries have been published nationwide, draws on new data to demonstrate that white men commit the majority of violent crime in the United States. For example, a white woman is ten times more likely to be raped by a white male acquaintance than be the victim of a violent crime perpetrated by a Black man. Butler also frankly discusses the problem of Black-on-Black violence and how to keep communities safer—without relying as much on police.
Chokehold powerfully demonstrates why current efforts to reform law enforcement will not create lasting change.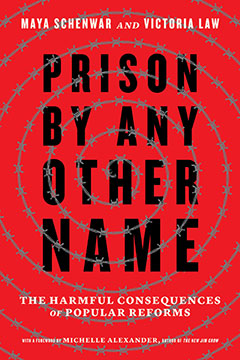 Prison by Any Other Name: The Harmful Consequences of Popular Reforms
Maya Schenwar and Victoria Law
Electronic monitoring. Locked-down drug treatment centers. House arrest. Mandated psychiatric treatment. Data-driven surveillance. Extended probation. These are some of the key alternatives held up as cost-effective substitutes for jails and prisons. But many of these so-called reforms actually widen the net, weaving in new strands of punishment and control, and bringing new populations, who would not otherwise have been subject to imprisonment, under physical control by the state.
As mainstream public opinion has begun to turn against mass incarceration, political figures on both sides of the spectrum are pushing for reform. But—though they're promoted as steps to confront high rates of imprisonment—many of these measures are transforming our homes and communities into prisons instead.
In Prison by Any Other Name, activist journalists Maya Schenwar and Victoria Law reveal the way the kinder, gentler narrative of reform can obscure agendas of social control and challenge us to question the ways we replicate the status quo when pursuing change. A foreword by Michelle Alexander situates the book in the context of criminal justice reform conversations. Finally, the book offers a bolder vision for truly alternative justice practices.
*     *     *     *     *     *     *     *     *     *
Checkout our recommendations for the budding social justice lawyer on your list.
Return to our 2020 Gift Guide.