Feminism and Queer Studies Gift Guide
Thursday, November 19, 2020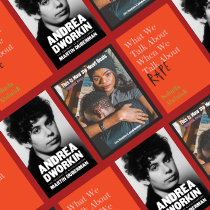 The traditional construction of gender is one of the pillars of a capitalist society, for the creation of new generations of compliant labor. For decades, feminists and LGBTQ people have challenged those constructions, and faced violence to do so. These titles explore those struggles, and how through them we can learn to get free.
For 15% off these titles when you buy direct from our store, use code "2020" at checkout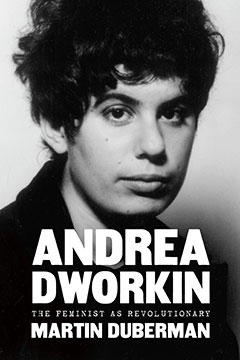 Andrea Dworkin: The Feminist as Revolutionary
Martin Duberman
Fifteen years after her death, Andrea Dworkin remains one of the most important and challenging figures in second-wave feminism. Although frequently relegated to its more radical fringes, Dworkin was without doubt a formidable and influential writer, a philosopher, and an activist—a brilliant figure who inspired and infuriated in equal measure. Her many detractors were eager to reduce her to the caricature of the angry, man-hating feminist who believed that all sex was rape, and as a result, her work has long been misunderstood. It is in recent years, especially with the rise of the #MeToo movement, that there has been a resurgence of interest in her ideas.
This biography is the perfect complement to the widely reviewed anthology of her writing, Last Days at Hot Slit, published in 2019, providing much-needed context to her work. Given exclusive access to never-before-published photographs and archives, including her letters to many of the major figures of second-wave feminism, award-winning biographer Martin Duberman traces Dworkin's life, from her abusive first marriage through her central role in the sex and pornography wars of the following decades. This is a vital, complex, and long overdue reassessment of the life and work of one of the towering figures of second-wave feminism.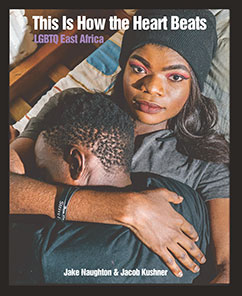 This Is How the Heart Beats: LGBTQ East Africa
Jake Naughton and Jacob Kushner
Same-sex relations are illegal in thirty-eight African countries, often under colonial-era laws. One of the most dangerous countries has been Uganda, which is attempting to pass an Anti-Homosexuality Bill (commonly known as the "Kill the Gays" bill) that seeks to broaden the criminalization of same-sex relations, making it punishable by life imprisonment and, in some instances, death.
This Is How the Heart Beats is a portrait by acclaimed photographer Jake Naughton of a group of East Africans who have fled unimaginable abuse in their homeland for the United States. One couple, Sulait and his boyfriend, had been tortured in prison in the months after the anti-homosexuality bill had been proposed and, on their release, had made their way to Kenya, where they were attacked by a mob of machete-wielding men. It was only after years in hiding that many such refugees have been resettled in the United States.
With an introduction by journalist Jacob Kushner and a foreword by Ugandan queer activist Ruth Muganzi, This Is How the Heart Beats is a record of LGBTQ forced migration unlike any other, following this community from its darkest moments to an uncertain future. At a time of great uncertainty for both LGBTQ and refugee rights, this work illuminates the stakes for those at the center of a firestorm.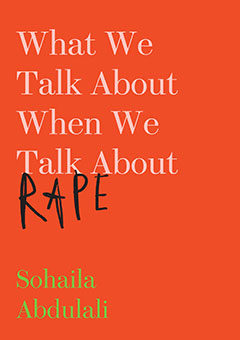 What We Talk About When We Talk About Rape
Sohaila Abdulali
After surviving gang-rape at seventeen in Mumbai, Sohaila Abdulali was indignant about the deafening silence that followed and wrote a fiery piece about the perception of rape—and rape victims—for a women's magazine. Thirty years later, with no notice, her article reappeared and went viral in the wake of the 2012 fatal gang-rape in New Delhi, prompting her to write a New York Times op-ed about healing from rape that was widely circulated. Abdulali then wrote What We Talk About When We Talk About Rape—a thoughtful, generous, unflinching look at rape and rape culture.
Drawing on her own experience, her work with hundreds of survivors as the head of a rape crisis center in Boston, and three decades of grappling with rape as a feminist intellectual and writer, Abdulali tackles some of our thorniest questions about rape, articulating the confounding way we account for who gets raped and why—and asking how we want to raise the next generation. In interviews with survivors from around the world we hear moving personal accounts of hard-earned strength, humor, and wisdom that collectively tell the larger story of what rape means and how healing can occur. Abdulali also points to the questions we don't talk about: Is rape always a life-defining event? Is one rape worse than another? Is a world without rape possible?
What We Talk About When We Talk About Rape is a book for this #MeToo and #TimesUp age that will stay with readers—men and women alike—for a long, long time.
*     *     *     *     *     *     *     *     *     *
Return to our 2020 Gift Guide.