Fiction Gift Guide
Thursday, November 19, 2020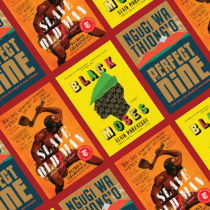 There can be no transformation of our world without imagination, and imagination is the bedrock of literature. In these spellbinding, poignant, often heartbreaking books, authors from around the world explore the struggles of ordinary people to survive and flourish in desperate historical moments.
Get 15% off these titles when you shop at our store. Use code '2020' at checkout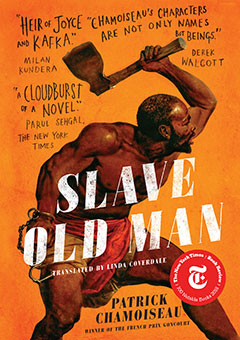 Patrick Chamoiseau
Shortlisted for the National Book Critics Circle Award for Fiction, Patrick Chamoiseau's Slave Old Man was published to accolades in hardcover in a brilliant translation by Linda Coverdale, winning the French-American Foundation Translation Prize and chosen as a Publishers Weekly Best Book of 2018.
Now in paperback, Slave Old Man is a gripping, profoundly unsettling story of an elderly slave's daring escape into the wild from a plantation in Martinique, with his master and a fearsome hound on his heels. We follow them into a lush rain forest where nature is beyond all human control: sinister, yet entrancing and even exhilarating, because the old man's flight to freedom will transform them all in truly astonishing—even otherworldly—ways, as the overwhelming physical presence of the forest reshapes reality and time itself.
Chamoiseau's exquisitely rendered new novel is an adventure for all time, one that fearlessly portrays the demonic cruelties of the slave trade and its human costs in vivid, sometimes hallucinatory prose. Offering a loving and mischievous tribute to the Creole culture of early nineteenth-century Martinique, this novel takes us on a unique and moving journey into the heart of Caribbean history.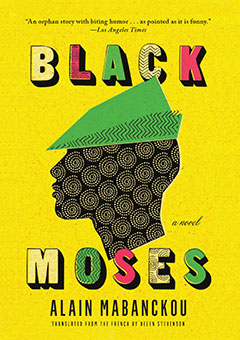 Alain Mabanckou
Greeted with wildly enthusiastic reviews on hardcover publication, Alain Mabanckou's riotous novel was the winner of the Hurston-Wright Prize and a finalist for too many other prizes to mention. It begins in an orphanage in 1970s Congo-Brazzaville run by a malicious political stooge who makes the life of our hero, Tokumisa Nzambe po Mose yamoyindo abotami namboka ya Bakoko—his name means "Let us thank God, the black Moses is born on the lands of the ancestors," but most people just call him Moses—very difficult.
Moses is also terrorized by his two fellow orphans—the twins Songi-Songi and Tala-Tala—but after Moses exacts revenge on the twins by lacing their food with hot pepper, the twins take Moses under their wing, escape the orphanage, and move to the bustling port town of Pointe-Noire, where they form a gang that survives on petty theft. What follows is a "pointed" (Los Angeles Times), "vivid and funny" (New York), larger-than-life tale that chronicles Moses's ultimately tragic journey through the Pointe-Noire underworld and the politically repressive reality of Congo-Brazzaville in the 1970s and '80s.
"Ringing with beautiful poetry" (Wall Street Journal), Black Moses is a vital new extension of Mabanckou's cycle of Pointe-Noire novels that stand out as one of the grandest, funniest, fictional projects of our time.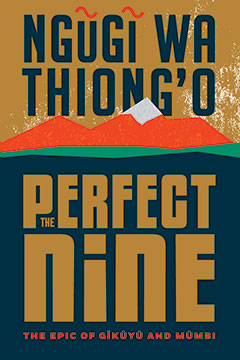 The Perfect Nine: The Epic of Gĩkũyũ and Mũmbi
Ngũgĩ wa Thiong'o
World-renowned Kenyan novelist Ngũgĩ wa Thiong'o has received glowing praise from the likes of President Barack Obama, the New Yorker, the New York Times Book Review, The Guardian, and NPR; he has been a finalist for the Man International Booker Prize and is annually tipped to win the Nobel Prize for Literature; and his books have sold tens of thousands of copies around the world.
In his first foray into the epic form, Ngũgĩ tells the story of the founding of the Gĩkũyũ people of Kenya, from a groundbreaking feminist perspective. A verse narrative, blending folklore, mythology, adventure, and allegory, The Perfect Nine chronicles the adventures of the daughters of the Gĩkũyũ founders, ten demigoddesses known as "The Perfect Nine," as they lead ninety-nine suitors on a quest to cement the survival of the Gĩkũyũ people and win their hands in marriage.
Engaged with roots of feminist philosophy in tandem with myth-making, The Perfect Nine teems with page-turning action as the daughters battle a bevy of mythological monsters, each sister growing into her unique magnificence and future self as a Gĩkũyũ leader throughout the twists and turns of the tale. Ngugi notes, "the epic came to me one night as a revelation of ideals of quest, courage, perseverance, unity, family; and the sense of the divine, in human struggles with nature and nurture."
*     *     *     *     *     *     *     *     *     *
Checkout our recommendations for the antiracist educator on your list.
Return to our 2020 Gift Guide.