Social Justice and the Law Gift Guide
Thursday, November 19, 2020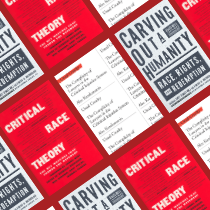 The visibility of the Black Lives Matter movement against police brutality has drawn attention to a deeper conversation. If racism is embedded in our criminal justice system so deeply, in which other aspects of our society does it manifest? How did our country come to be structured along these lines? In these essential texts, people of color write about their struggles for liberation and a world where we are all truly free.
Get 15% off these titles when you shop at our store. Use code '2020' at checkout.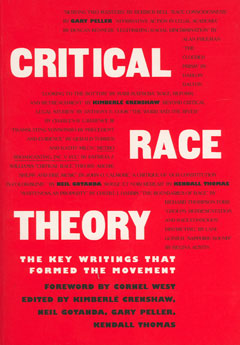 Critical Race Theory: The Key Writings That Formed the Movement
Edited by Kimberlé Crenshaw, Neil T. Gotanda, Gary Peller, and Kendall Thomas
Why did the president of the United States, in the midst of a pandemic and an economic crisis, take it upon himself to attack Critical Race Theory? Perhaps Donald Trump appreciates the power of this groundbreaking intellectual movement to change the world.
In recent years, Critical Race Theory has vaulted out of the academy and into courtrooms, newsrooms, and onto the streets. And no wonder: as intersectionality theorist Kimberlé Crenshaw recently told Time magazine, "It's an approach to grappling with a history of white supremacy that rejects the belief that what's in the past is in the past, and that the laws and systems that grow from that past are detached from it." The panicked denunciations from the right notwithstanding, CRT has changed the way millions of people interpret our troubled world.
Edited by its principal founders and leading theoreticians, Critical Race Theory was the first book to gather the movement's most important essays. This groundbreaking book includes contributions from scholars including Derrick Bell, Kimberlé Crenshaw, Patricia Williams, Dorothy Roberts, Lani Guinier, Duncan Kennedy, and many others. It is essential reading in an age of acute racial injustice.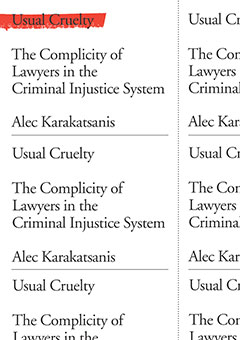 Usual Cruelty: The Complicity of Lawyers in the Criminal Injustice System
Alec Karakatsanis
Award-winning civil rights lawyer Alec Karakatsanis, founder of the Civil Rights Corps, is interested in what we choose to punish. For example, it is a crime in most of America for poor people to wager in the streets over dice; dice-wagerers can be seized, searched, have their assets forfeited, and be locked in cages. It's perfectly fine, by contrast, for people to wager over international currencies, mortgages, or the global supply of wheat; wheat-wagerers become names on the wings of hospitals and museums.
He is also troubled by how the legal system works when it is trying to punish people. The bail system, for example, is meant to ensure that people return for court dates. But it has morphed into a way to lock up poor people who have not been convicted of anything. He's so concerned about this that he has personally sued court systems across the country, resulting in literally tens of thousands of people being released from jail when their money bail was found to be unconstitutional.
Karakatsanis doesn't think people who have gone to law school, passed the bar, and sworn to uphold the Constitution should be complicit in the mass caging of human beings—an everyday brutality inflicted disproportionately on the bodies and minds of poor people and people of color and for which the legal system has never offered sufficient justification. Usual Cruelty is a profoundly radical reconsideration of the American "injustice system" by someone who is actively, wildly successfully, challenging it.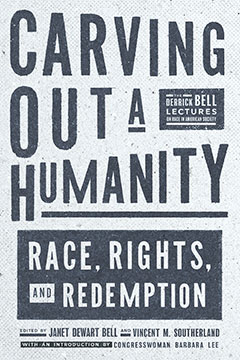 Carving Out a Humanity: Race, Rights, and Redemption
Edited by Janet Dewart Bell and Vincent M. Southerland
Carving Out a Humanity gathers some of our country's brightest progressive legal stars in a volume that illuminates the facets of the law that have continued to perpetuate racial inequality and to confound our nation at the start of a new millennium.
"To what extent does equal protection protect?" asks Ian Haney López in a penetrating analysis of the gaps that remain in our civil rights legal codes. President of the NAACP Legal Defense Fund Sherrilyn Ifill describes the hypersegregation of our cities and the limits of the law's ability to change deep-seated attitudes about race. Patricia Williams explores the legacy of slavery in the law's current constructions of sanity. Anita Allen discusses competing privacy and accountability interests in the lives of African American celebrities. Chuck Lawrence interrogates the judicial backlash against affirmative action. And Michelle Alexander describes what caused her to break ranks with the civil rights community and take up the cause of those our legal system has labeled unworthy.
Originally delivered as Derrick Bell Lectures in a series at NYU School of Law, begun in 1995 and running up through 2019, Carving Out a Humanity offers an unprecedented array of today's most creative and brilliant thinking on race and the law.
*     *     *     *     *     *     *     *     *     *
Checkout our recommendations for the fiction lover on your list.
Return to our 2020 Gift Guide.