Antiracist Education Gift Guide
Thursday, November 19, 2020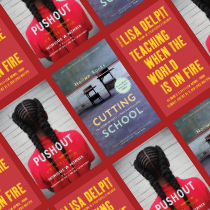 Education is where capitalism, racism, and policing intersect, resulting in what we know as the "school to prison pipeline." These groundbreaking books investigate how privatization and reliance on testing have eroded our free public school system and reduced students to commodities; how racism encourages schools to view its young Black and Brown charges as inherently criminal, adult, and violent; and how policing has replaced care and guidance in schools. Each of these authors chart how education can be transformed to center, nurture, and guide students.
For 15% off these titles when you buy direct from our store, use code '2020' at checkout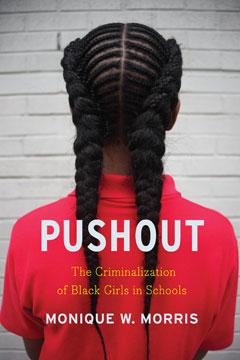 Pushout: The Criminalization of Black Girls in Schools
Monique W. Morris
The "powerful" (Michelle Alexander) exploration—featured by The Atlantic, Essence, the Washington Post, New York magazine, NPR, and others—of the harsh and harmful experiences confronting Black girls in schools. Monique W. Morris (Black Stats, Too Beautiful for Words) chronicles the experiences of Black girls across the country whose intricate lives are misunderstood, highly judged—by teachers, administrators, and the justice system—and degraded by the very institutions charged with helping them flourish. Called "compelling" and "thought-provoking" by Kirkus Reviews, Pushout exposes a world of confined potential and supports the rising movement to challenge the policies, practices, and cultural illiteracy that push countless students out of school and into unhealthy, unstable, and often unsafe futures.
Pushout was instrumental in informing Rep. Ayanna Pressley's Ending PUSHOUT Act, released earlier this month, which would establish $2.5 billion in new federal grants for schools that commit to a set of measures aimed at overhauling the ways schools handle discipline, such as banning most suspensions and expulsions, as well as corporal punishment and the physical restraint of students.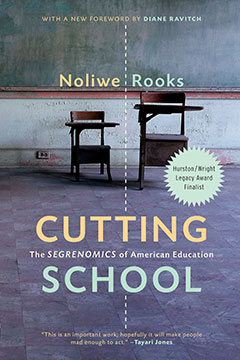 Cutting School: The Segrenomics of American Education
Noliwe Rooks
In an era characterized by levels of school segregation the country has not seen since the mid-twentieth century, cultural critic and American studies professor Noliwe Rooks provides a trenchant analysis of our separate and unequal schools and argues that profiting from our nation's failure to provide a high-quality education to all children has become a very big business.
Hailed as "a bold and groundbreaking work" by Danny Glover, Cutting School deftly traces the financing of segregated education in America, from Reconstruction through Brown v. Board of Education up to the current controversies around school choice, teacher quality, the school-to-prison pipeline, and more. Rooks breaks down the fraught landscape of "segrenomics," transforming the "conversation about privatization and public education just as The New Jim Crow has done for the war on drugs and mass incarceration" (Khalil Gibran Muhammad, author of The Condemnation of Blackness).
As our public education infrastructure crumbles, Rooks's book manages to find  hope in the inspired individuals and powerful movements fighting to save our urban schools. Cutting School is a cri de coeur for all of us to resist educational apartheid.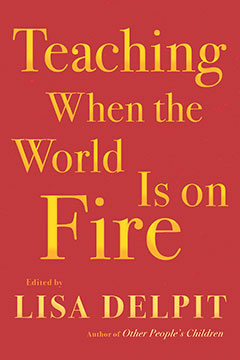 Teaching When the World Is on Fire: Authentic Classroom Advice, from Climate Justice to Black Lives Matter
Edited by Lisa Delpit
Is it okay to discuss politics in class? What are constructive ways to help young people process the daily news coverage of sexual assault? How can educators engage students around Black Lives Matter? Climate change? Confederate statue controversies? Immigration? Hate speech?
MacArthur winner Delpit, author of the acclaimed Other People's Children, is a master-teacher whose wisdom tees up guidance from beloved, well-known educators along with insight from dynamic principals and classroom teachers tackling difficult topics in K–12 schools every day.
This honest and rich collection brings together essential observations on safety from Pedro Noguera and Carla Shalaby; incisive ideas on traversing politics from William Ayers and Mica Pollock; Christopher Emdin's instructive views on respecting and connecting with Black and Brown students; Hazel Edwards's crucial insight about safe spaces for transgender and gender-nonconforming students; and James W. Loewen's sage suggestions about exploring symbols of the South; as well as timely thoughts from Bill Bigelow on teaching the climate crisis—and on the students and teachers fighting for environmental justice.
*     *     *     *     *     *     *     *     *     *
Checkout our recommendations for the workplace organizer on your list.
Return to our 2020 Gift Guide.