Social Distancing Doesn't Mean Giving Up on Social Justice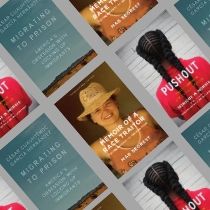 While many folks transition to working from home, let's keep in mind the many others who don't have the luxury of doing so, including the tens of thousands of people locked up in immigrant detention, the millions incarcerated in prisons and jails, and more. A public health crisis isn't reason to press pause on our advocacy for immigrant justice, prisoners' rights, workers' rights, housing justice, environmental justice, and other key issues. Below are a few recent New Press books at the forefront of nationwide struggles for justice, as well as information about recent media coverage for these critical titles, and free online events featuring their authors.  Please join us!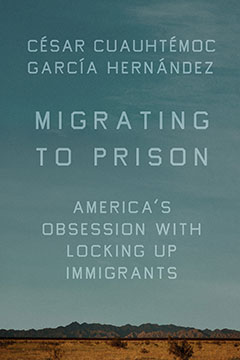 Migrating to Prison: America's Obsession with Locking Up Immigrants
By César Cuauhtémoc García Hernández
In Migrating to Prison, leading scholar César Cuauhtémoc García Hernández takes a hard look at the immigration prison system's origins, how it currently operates, and why. Called a "chilling, timely overview" by Kirkus Reviews, Migrating to Prison is interspersed with powerful stories of people caught up in the immigration imprisonment industry, including children who have spent most of their lives in immigrant detention, Migrating to Prison is an urgent call for the abolition of immigration prisons and a radical reimagining of the United States: who belongs and on what criteria is that determination made?
Read García Hernández's latest op-ed in The New York Times, calling for the immediate closure of immigration prisons in light of the coronavirus pandemic.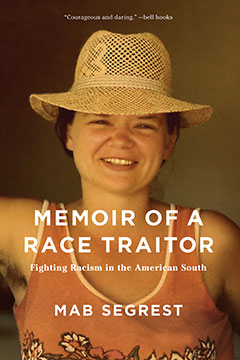 Memoir of a Race Traitor: Fighting Racism in the American South
By Mab Segrest
Against a backdrop of nine generations of her family's history, Segrest explores her experiences in the 1980s as a white lesbian organizing against a virulent far-right movement in North Carolina. bell hooks has called Memoir of a Race Traitor a "courageous and daring [example of] the reality that political solidarity, forged in struggle, can exist across differences." Newly released after more than a decade out of print, Memoir of a Race Traitor is an inspiring and politically relevant classic of antiracist work. Segrest's memoir is also one of the titles featured on our Women's History Month Reading List, a list of books that celebrates the contributions of women to history and contemporary society.
Segrest's newest book, Administrations of Lunacy: Racism and the Haunting of American Psychiatry at the Midgeville Asylum, is out next month from The New Press. You can watch an interview with Mab Segrest on the Laura Flanders Show discussing the book and her research on the racist roots of the American mental healthcare system.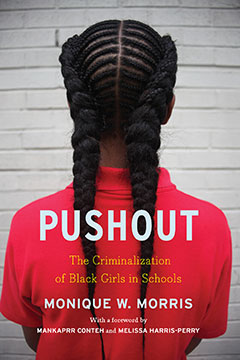 Pushout: The Criminalization of Black Girls in Schools
By Monique W. Morris
In a work that Lisa Delpit calls "imperative reading," Monique W. Morris chronicles the experiences of Black girls across the country whose intricate lives are misunderstood, highly judged—by teachers, administrators, and the justice system—and degraded by the very institutions charged with helping them flourish. Morris exposes a world of confined potential and supports the rising movement to challenge the policies, practices, and cultural illiteracy that push countless students out of school and into unhealthy, unstable, and often unsafe futures. Morris and filmmaker Jacoba Atlas expound upon these issues in a documentary of the same name, a documentary that is airing on PBS stations across the country this month and is currently available to stream on the PBS website. Morris recently joined NPR's Renee Montagne for a conversation about Pushout and her work more broadly.
Morris's newest book, Sing a Rhythm, Dance a Blues: Education for the Liberation of Black and Brown Girls, builds upon her groundbreaking work in Pushout to provide a blueprint for how to transform schools into places where learning and collective healing can flourish.
For more on confronting inequality and oppression, check out our reading list: 8 Books for Confronting the Criminal Injustice System.
Also, don't forget to support your local bookstore during what are sure to be difficult times for beloved small businesses. Many stores are shipping purchases at reduced or free rates, or you can use Bookshop.org.