12 Books to Read for Women's History Month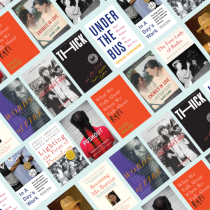 March is Women's History Month, a month dedicated to highlighting the contributions of women to history and to contemporary society.
To celebrate we're sharing a reading list of new and backlist books from The New Press that look back at our past to tell an overlooked history, that reflect upon our present moment, and offer visions for a better future.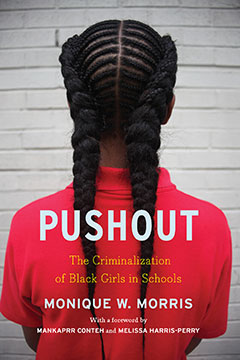 Pushout: The Criminalization of Black Girls in Schools
By Monique W. Morris
In Pushout scholar, activist, and filmmaker Monique Morris offers a powerful and groundbreaking indictment of the criminalization of girls of color in schools. Morris and filmmaker Jacoba Atlas expound upon these issues in a documentary of the same name, a documentary that will air on PBS stations across the country later this month. The book also inspired Congresswoman Ayanna Presley from Massachusetts to introduce legislation to end the school to confinement pathway.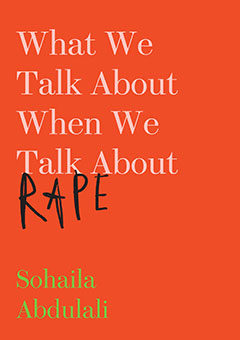 What We Talk About When We Talk About Rape
By Sohaila Abdulali
Sohaila Abdulali's What We Talk About When We Talk About Rape is a beautifully written, deeply intelligent, searingly honest—and ultimately hopeful—examination of sexual assault and the global discourse on rape told through the perspective of a survivor, writer, counselor, and activist. You can read an excerpt from the book in Yes! magazine.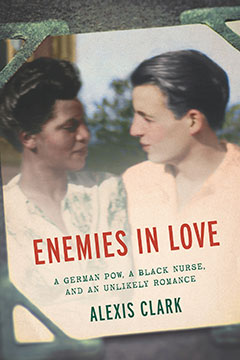 Enemies in Love: A German POW, a Black Nurse, and an Unlikely Romance
By Alexis Clark
A true and deeply moving narrative of forbidden love during World War II and a shocking, hidden history of race on the home front. Enemies in Love is a love story like no other: Elinor Powell was an African American nurse in the U.S. military during World War II; Frederick Albert was a soldier in Hitler's army, captured by the Allies and shipped to a prisoner-of-war camp in the Arizona desert. Like most other black nurses, Elinor pulled a second-class assignment, in a dusty, sun-baked—and segregated—Western town. Brought together by unlikely circumstances in a racist world, Elinor and Frederick should have been bitter enemies; but instead, at the height of World War II, they fell in love.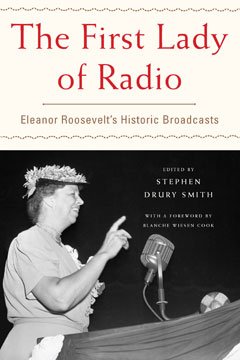 The First Lady of Radio: Eleanor Roosevelt's Historic Broadcasts 
Edited by Stephen Drury Smith, with a foreword by Blanche Wiesen Cook
Eleanor Roosevelt's groundbreaking career as a professional radio broadcaster is almost entirely forgotten. As First Lady, she hosted a series of prime-time programs that revolutionized how Americans related to their chief executive and his family. Now The First Lady of Radio rescues these broadcasts from the archives, presenting a carefully curated sampling of transcripts of Roosevelt's most famous and influential radio shows, edited and set into context by award-winning author and radio producer Stephen Drury Smith.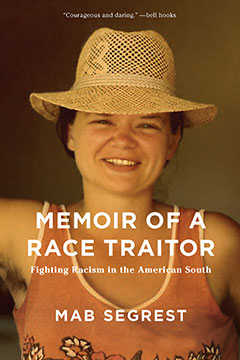 Memoir of a Race Traitor: Fighting Racism in the American South
By Mab Segrest
Back in print after more than a decade, Memoir of a Race Traitor was originally published in 1994 and quickly became a classic text of white antiracist practice. Against a backdrop of nine generations of her family's history, Segrest explored her experiences in the 1980s as a white lesbian organizing against a virulent far-right movement in North Carolina. Segrest is also the author of the newly published Administrations of Lunacy, an epic and revelatory look at the racist origins of psychiatry, told through the story of the largest mental institution in the world, the Georgia State Lunatic, Idiot, and Epileptic Asylum.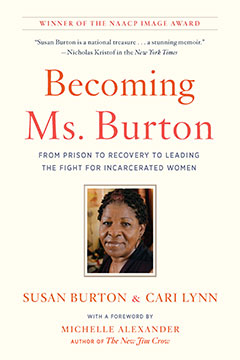 Becoming Ms. Burton: From Prison to Recovery to Leading the Fight for Incarcerated Women
By Susan Burton and Cari Lynn, with a foreword by Michelle Alexander
A memoir of the life and work of Susan Burton that follows her journey through the criminal justice system and her transformation into a life of advocacy through her award-winning organization, A New Way of Life, which has helped thousands of formerly incarcerated women fight the problems of re-entry. You can read an excerpt from Michelle Alexander's foreword to the book in The Nation. If you are interested in criminal justice reform, check out our reading list "8 Books for Confronting the Criminal Injustice System: A Just Mercy-Inspired Reading List."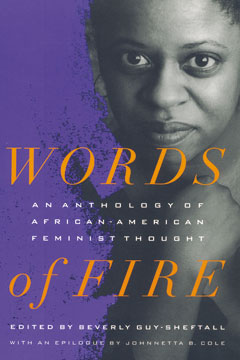 Words of Fire An Anthology of African-American Feminist Thought
Edited by Beverly Guy-Sheftall
The first major anthology to trace the development, from the early 1800s to the present, of black feminist thought in the United States. From the pioneering work of abolitionist Maria Miller Stewart and anti-lynching crusader Ida Wells-Barnett to the writings of contemporary feminist critics Michele Wallace and bell hooks, black women have been writing about the multiple jeopardies—racism, sexism, and classicm—that have made it imperative for them to forge a brand of feminism uniquely their own. Words of Fire, along with Tressie McMillan Cottom's Thick: And Other Essays, was recently featured on The Strategist's list "The Best Books for Budding Black Feminists, According to Experts."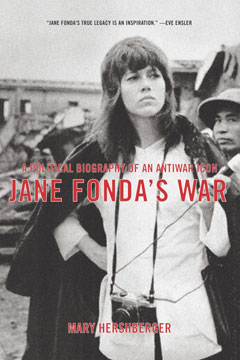 Jane Fonda's War: A Political Biography of an Antiwar Icon
By Mary Hershberger
An antidote to the "Hanoi Jane" myth, the first account of the celebrated actress's antiwar activism Based on unprecedented access to Fonda's twenty-foot-thick FBI files, interviews with the former POWs Fonda met with in Hanoi in 1972, and a broad range of contemporary press reports, Jane Fonda's War is a fascinating and little-understood chapter in the extraordinary life of an American icon. Hershberger is also the editor of Jane Fonda's Words of Politics and Passions, which collects Fonda's most stirring public statements from 1970 through 2005, in speeches, interviews, and articles from over thirty years of tireless campaigning against war and militarism and on behalf of women's rights, women's health, feminism, and the environment.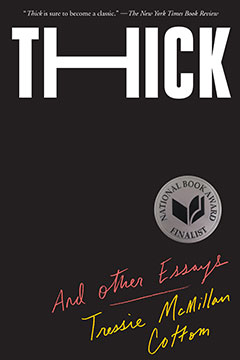 By Tressie McMillan Cottom
Lauded a "must-read" by TIME magazine and as one of the "Best Essay Collections" of the 2010s by Literary Hub, Thick is a bold and genre-busting collection. McMillan Cottom has crafted a black woman's cultural bible, as she mines for meaning in places many of us miss and reveals precisely how―when you're in the thick of it―the political, the social, and the personal are almost always one and the same. You can read an excerpt from the book in Zora. Thick was also featured on our list "8 Books To Read for Black History Month 2020," alongside other works of history, memoir, and interviews, and on The Strategist's list "The Best Books for Budding Black Feminists, According to Experts.".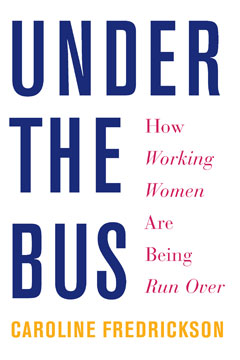 Under the Bus: How Working Women Are Being Run Over
By Caroline Fredrickson
Called a "damn fine book" by Elle magazine, Under the Bus changes the conversation about women at work—the question is not only about those women at the top trying to "break the glass ceiling" but instead why millions are stuck on the sticky floor. Fredrickson shows that our labor laws are based on outdated, misogynistic, and racist assumptions that leave huge sectors of the workforce without a minimum wage or the right to unionize and subject to wage theft, physical and sexual abuse, and pregnancy discrimination, despite laws that purport to protect all workers. Fredrickson is also the author of The Democracy Fix: How to Win the Fight for Fair Rules, Fair Courts, and Fair Elections, an important book for our current political moment that looks at how the right came to dominate politics despite being in the minority and shows how the left can undo the right's damage and take the country back.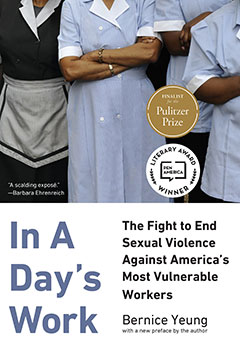 In a Day's Work: The Fight to End Sexual Violence Against America's Most Vulnerable Workers
By Bernice Yeung
Yeung takes readers on a journey across the country, introducing us to women who came to America to escape grinding poverty only to encounter sexual violence in the United States. The author mitigates the difficult material by bringing humanity, empathy, and hope to each page. In a Day's Work exposes the underbelly of economies filled with employers who take advantage of immigrant women's need to earn a basic living. When these women find the courage to speak up, Yeung reveals, they are too often met by apathetic bosses and underresourced government agencies. But In a Day's Work also tells a story of resistance, introducing a group of courageous allies who challenge dangerous and discriminatory workplace conditions alongside aggrieved workers—and win. Moving and inspiring, this book will change our understanding of the lives of immigrant women.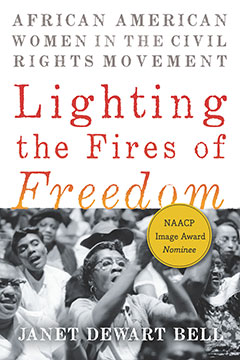 Lighting the Fires of Freedom: African American Women in the Civil Rights Movement
By Janet Dewart Bell
Most Americans know of Rosa Parks, the black woman who famously refused to give up her seat to a white person on a bus in Alabama, and helped to ignite the Civil Rights Movement in the 1950s. Equally well known is Coretta Scott King, the widow of Martin Luther King, Jr., and a formidable force in her own right. But a majority of Americans would have a hard time naming other important female leaders of the Civil Rights Movement, although there were many more than two. In Lighting the Fires of Freedom, newly published in paperback, Janet Dewart Bell weaves together the deeply personal and untold accounts of nine women—Myrlie Evers, Gloria Richardson, Kathleen Cleaver, Gay McDougall, Diane Nash, Judy Richardson, Aileen Hernandez, Leah Chase, and Dr. June Jackson Christmas—to shine a light on their often overlooked achievements. You can read more about each of them in our blog post "9 Women Civil Rights Leaders to Celebrate this Black History Month."
Blog section: