Remembering Louis "Studs" Terkel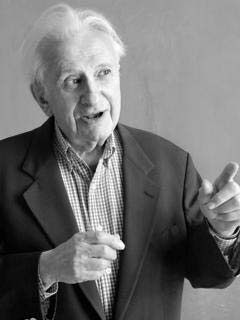 This weekend we are celebrating writer, orator, and icon Louis "Studs" Terkel's birthday. Born on May 16, 1912, Studs was the author of many books, for which he interviewed hundreds of people, including Martin Luther King Jr., Leonard Bernstein, Gloria Steinem, Toni Morrison, and many others. He listened to everyone's story equally and wholeheartedly, whether his subject was internationally recognized or virtually unknown. As the New York Times put it, "Mr. Terkel succeeded as an interviewer in part because he believed most people had something to say worth hearing."
Terkel stood witness to some of recent history's most difficult and most formative moments, from the Great Depression to the Civil Rights Movement. On his early TV show, then his beloved radio show, and eventually in his books, he documented monumental changes through the eyes of the American people. In each medium, he maintained the conversational interview style that he is famous for today.
Terkel's books continue to resonate, not least for the way they capture how everyday people grapple with life's challenges. Especially during pandemic that has upended every aspect of our lives. Working, which was originally published 46 years ago, looked at jobs and the workers that do them. The Chicago Tribune recently noted, Working "bristles with familiar questions and complaints and aspirations about the search, stability, and certainty of a meaningful job." Hard Times, Terkel's oral history of the Great Depression turned 50 in 2020. In look at the book's legacy, NPR quoted historian Michael Frisch, saying about Hard Times "People living on the edge of history and trying to figure it out as they go along. I think that's what we're going through right now, because we are all over the edge."
Studs Terkel dedicated his life to telling people's stories. He passed away on October 31, 2008 at the age of 96. His curiosity and his willingness to listen shaped his legacy. "'Curiosity never killed this cat'" he was once quoted saying, "that's what I'd like as my epitaph."
Happy birthday, Studs!
*     *     *     *     *
For more on Studs Terkel, check out these posts from our blog archive: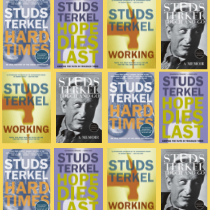 "Food for Thought from Studs Terkel"
A collection of quotes pulled from Terkel's books to serve as some food for thought in our present moment.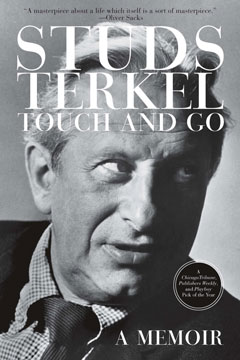 His final memoir, Touch and Go takes readers through Terkel's childhood to his beginnings as a disc jockey and oral historian. In this excerpt Terkel reflects on the Great Depression and the people who strove to make a difference during a difficult time.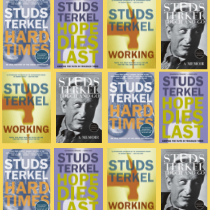 Terkel was renowned for his skills as an interviewer. He let his interviewees tell their own stories in their own voices. This reading list of Terkel's books highlights that skill and, as a whole, presents an honest and intimate history of the American people.