Food for Thought from Studs Terkel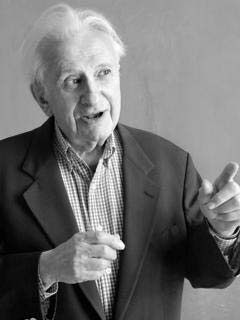 Throughout the week, we're celebrating the life and legacy of author Studs Terkel leading up to his birthday on Saturday. Today, we have a collection of quotes pulled from his books (you can find suggestions on which ones to read here) to serve as some food for thought in our present moment.
*     *     *     *     *
Something to think about while reflecting on the past:
"Have lessons been learned from an experienced trauma that to some seems only yesterday, to others centuries ago. A young woman, on being told of the Great Depression by her grandparents, says, 'It seemed like a fairy tale to me, something of a bedtime story.' . . . Ours, the richest country in the world, may be the poorest in memory. Perhaps the remembrances of survivors of a time past may serve as a reminder to others. Or to themselves." —from Hard Times
Encouragement to stand up for what's right, drawing on and, in turn, creating a sense of hope:
"In all epochs, there were at first doubts and the fear of stepping forth and speaking out, but the attribute that spurred the warriors on was hope. And the act. Seldom was there a despair or a sense of hopelessness. Some of those on the sidelines, the spectators, feeling helpless and impotent, had by the very nature of the passionate act of others become imbued with hope themselves."—from Hope Dies Last
A reflection on the importance of community, especially in difficult times:
"As is true for so many I've met through the years, the antidote for despair and hopelessness is in joining with others."—from Touch and Go
A reminder to find joy and purpose in your work, even if you're doing it from home:
"[Work] is about a search . . . for daily meaning as well as daily bread, for recognition as well as cash, for astonishment rather than torpor; in short, for a sort of life, rather than a Monday through Friday sort of dying."— from Working
And, finally, a proposal to turn our fear into motivation, to shift our perspective of death into something that encourages us to live:
"We, as a matter of course, reflect on death, voice  hope and fear, only when a dear one is near death, or out of it. Why not speak of it while we're in the flower of good health? How can we envision our life, the one we now experience, unless we recognize that it is finite?" —from Will the Circle Be Unbroken
*     *     *     *     *
For more about Studs Terkel, check out our reading list, which includes some of his best known works, and an excerpt from Touch and Go, his final memoir.