A Studs Terkel Reading List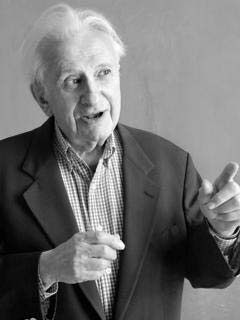 In honor of legendary author and oral historian Studs Terkel's upcoming birthday, we've put together a list of some of his works to add to your #QuarantineReads. Terkel defined broadcast journalism in the mid-20th century with his radio program "The Studs Terkel Program" and went on to write some of the most famous oral histories of his time, with the encouragement of New Press founding director André Schiffren.  He let his interviewees tell their own stories in their own voices, and through them he painted an honest and intimate history of the American people. Check out the following books, then stay tuned throughout the week as we continue to celebrate the life and legacy of Studs Terkel.
Working: People Talk About What They Do All Day and How They Feel About What They Do
Perhaps Studs Terkel's best-known book, Working is a compelling, fascinating look at jobs and the people who do them. Consisting of over one hundred interviews conducted with everyone from gravediggers to studio heads, this book provides a timeless snapshot of people's feelings about their working lives, as well as a relevant and lasting look at how work fits into American life.
Division Street: America
Terkel's first book of oral history, Division Street established his reputation as America's foremost oral historian. Viewing the inhabitants of a single city, Chicago, as a microcosm of the nation at large, he chronicles the thoughts and feelings of some seventy people from widely varying backgrounds in terms of class, race, and personal history. These unique and often intimate first-person accounts form a multifaceted collage that defies any simple stereotype of America.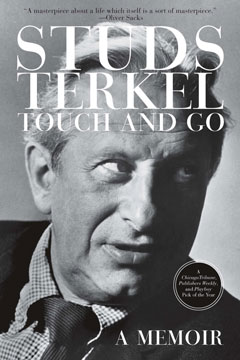 Touch and Go: A Memoir
In this memoir, Terkel takes us through his childhood and into his early experiences, offering a brilliant and often hilarious portrait of Chicago in the 1920s and '30s. Describing his beginnings as a disc jockey after World War II, his involvement with progressive politics during the McCarthy era, and later his career as an interviewer and oral historian, Touch and Go is a brilliant lifetime achievement from the man the Washington Post has called "the most distinguished oral historian of our time."
"The Good War": An Oral History of World War II
"The Good War", for which Studs Terkel won the Pulitzer Prize, is a testament not only to the experience of war but to the extraordinary skill of Terkel as interviewer. As always, his subjects are open and unrelenting in their analyses of themselves and their experiences, producing what People magazine has called "a splendid epic history of World War II." With this volume Terkel expanded his scope to the global and the historical, and the result is a masterpiece of oral history.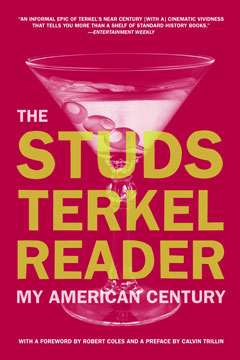 The Studs Terkel Reader: My American Century
The Studs Terkel Reader, originally published under the title My American Century, collects the best interviews from eight of Terkel's classic oral histories together with his magnificent introductions to each work. Featuring selections from American Dreams, Coming of Age, Division Street, "The Good War", The Great Divide, Hard Times, Race, and Working, this "greatest hits" volume is a treasury of Terkel's most memorable subjects that will delight his many lifelong fans and provide a perfect introduction for those who have not yet experienced the joy of reading Studs Terkel.
*     *     *     *     *
For more, check out our blog post "Food for Thought from Studs Terkel" and an excerpt from Touch and Go, Terkel's final memoir.
Blog section: