Author Events Replay: Independent Bookstore Day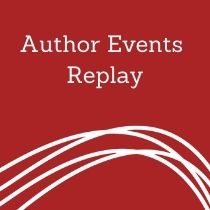 Saturday, April 24th is Independent Bookstore Day, a day to celebrate and show some love to the indie bookstores who provide an invaluable service to our communites. This year's festivities may look a little different from years past, but are still an opportunity to support the stores that are cultural anchors in our neighborhoods, are places of discovery and learning, and are a venue for conversation. We're celebrating Independent Bookstore Day by revisting author events from 2021 hosted by our indie bookstore friends and other organizations from around the country.
Discover a new book, join the conversation, visit these bookstores online, and order a book or sign-up for one of their future book events.
 
*     *     *     *     *     *     *     *     *     *
Chris Lombardi's I Ain't Marching Anymore is a sweeping history of the passionate men and women in uniform who have bravely and courageously exercised the power of dissent. In an event with Politics and Prose in Washington, DC, Lombardi joined activist and author Jonathan Hutto for a conversation about the history of dissent in the U.S. armed forces.
Co-authors Marc Lamont Hill and Mitchell Plitnik discussed Except for Palestine, a searing cri de coeur that asks the American left to extend their politics to the issues of Israel-Palestine, in an event with Uncle Bobbie's Coffee & Books in Philadelphia, PA with legendary activists Dr. Angela Y. Davis and Dima Khalidi J.D.
Town Hall Seattle, with bookstore partner Elliott Bay Book Company, hosted a discussion about A Wolf at the Schoolhouse Door, the dismantling of public education, and the future of school with authors Jack Schneider and Jennifer Berkshire  in conversation with historian Diane Ravitch.
Immigration Matters brings together leaders in the fight to advance immigrant rights in the U.S. to offer a new, actionable vision for immigration policy. Community Change Action, a national organization that builds power from the ground up, hosted a conversation with Immigration Matters contributors Deepak Bhargava, Rep. Pramila Jayapal, Cecilia Munoz, and Cristina Jiminez, moderated by Lorella Praeli, to discuss immigration policy and the Biden Administration's first 100 days.
Mouths of Rain, a groundbreaking collection  that traces the history of intellectual thought by Black Lesbian writers celebrated its publication with an event with Charis Books & More in Decatur, GA. Editor by Briona Simone Jones was joined by Spelman College's Holly Smith and Beverly Guy-Sheftall, and contributors Mecca Jamilah Sullivan, Bettina Love, and Cheryl Clarke to discuss the book.
The New Jim Crow author Michelle Alexander joined Marc Lamont Hill and Mitchell Plitnick for a conversation about their book Except for Palestine and the need to extend Leftist politics and values to the issues of Israel and Palestine in an event with Washington, D.C.'s Politics and Prose.
PBS Books and Association for the Study of African American Life and History hosted an event with internationally celebrated author Ngũgĩ wa Thiong'o for The Perfect Nine, his genre-defying modern epic, myth, and feminist re-imaging of Kenya's origins that subverts patriarchy and roots for social equity. Ngũgĩ discusses the book, the Black family, gender equity, and more with professors Nubia Kai and Sundiata Keita Cha-Jua.
Waste author and MacArthur Genius Catherine Coleman Flowers joined the Virginia Festival of the Book for a panel on Environmental Injustices with writers Anna Clark and Kerri Arsenault. In Waste, Flowers recounts her evolution as an activist in the fight to ensure human dignity through a right most Americans take for granted: basic sanitation.
To celebrate the English language publication of The Impudent Ones, the debut novel by Marguerite Duras (the renowned author of The Lover and The War) Books and Books, an independent bookstore in Coral Gables, FL, hosted a discussion of The Impudent Ones with translator Kelsey L. Haskett in conversation with Michael Reynolds, editor in chief at Europa Editions.
Morris Pearl, Erica Payne, and The Patriotic Millionaires, discuss their new book, Tax the Rich!, and how to tackle wealth inequality in America with Kyle Strickland in an online event with the Brennan Center for Justice.