Read an excerpt from Waste by Catherine Coleman Flowers
Tuesday, November 17, 2020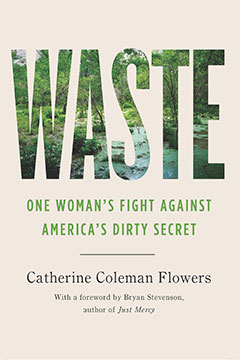 Waste, activist Catherine Coleman Flowers's new memoir traces her evolution from country girl to student civil rights organizer to environmental justice champion. Flowers has fought for basic sanitation in her home community of Lowndes County, Alabama and in communities across the country, an issue that lies at the intersection of health, environmental, economic, and social justice.
In the excerpt below, published in The New York Times, Flowers takes us on a tour of Lowndes County and introduces us to Pamela Rush who, before she died of Covid-19, opened her home to show the world the consequences of America's dirty secret.
*     *     *     *     *     *     *     *     *     *
My story starts in Lowndes County, Ala., a place that's been called Bloody Lowndes because of its violent, racist history. It's part of Alabama's Black Belt, a broad strip of rich, dark soil worked and inhabited largely by poor Black people who, like me, are descendants of slaves. Our ancestors were ripped from their homes and brought here to pick the cotton that thrived in the fertile earth.

I grew up here, left to get an education and followed a range of professional opportunities. But something about that soil gets in your blood. I came back hoping to help good, hard-working people rise up out of the poverty that bogs them down like Alabama mud.

A big part of my work now is educating people about rural poverty and environmental injustice — about how poor people around the United States are trapped in conditions no one else would put up with. Those conditions — polluted air, tainted water, untreated sewage — make people sick.

I take activists, donors and politicians to see such conditions for themselves. We visit families crowded into run-down homes that lack heat in the winter and plumbing in all seasons. We visit homes with no means of wastewater treatment, because septic systems cost more than most people earn in a year and tend to fail anyway in the impervious clay soil. Families cope the best they can, mainly by jury-rigging PVC pipe to drain their toilet's sewage into cesspools in the woods or yard outside, where they breed parasites and disease right by where children and pets play.

An estimated 90 percent of Lowndes households have failing or inadequate wastewater systems, although no one took the time to count until my organization, the Center for Rural Enterprise and Environmental Justice, conducted a door-to-door survey in 2011 and 2012.

The head of one of those households for years was Pamela Rush. Pam, who was a 42-year-old mother with a cautious smile when I met her in 2018, greeted visitors at the door of the faded blue, single-wide trailer she shared with her two children. Senator Bernie Sanders, as well as famous activists like Jane Fonda and the Rev. Dr. William Barber II of the Poor People's Campaign, traveled down the dusty road to Pam's home, where they saw a picture that was hard to shake.

             —Continue reading in The New York Times
*     *     *     *     *     *     *     *     *     *
For more about Waste and Catherine Coleman Flowers, read an interview with the author.
Blog section: