Say Racial Justice: A Reading List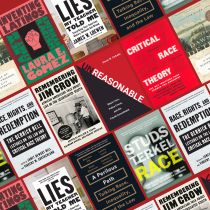 Over the last few years we've seen a rise in attacks targeting communities, classrooms, cultural spaces, and more in school districts, cities, and states across the country. These attacks are made through legislation, bans, and the rewriting of curriculum that seek to dehumanize minority groups and skew the telling of history—from 
bills that criminalize gender-affirming care
 to 
attempts to censor the teaching of history
 to a shocking 
increase in book bans
. In the face of this censorship and attempts to restrict dialogue and scholarship, we're naming the issues, saying them out loud, and sharing a series of reading lists that provide a deep dive into topics that are in the spotlight.
In response to these book bans, restrictions on teaching, and
attacks on critical race theory from the right
, The New Press is providing an essential reading guide for better understanding the relationship between history, race, and the legal system.
*     *     *     *     *     *     *     *     *     *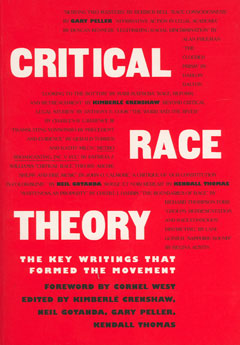 Edited by Kimberlé Crenshaw, Neil T. Gotanda, Gary Peller, and Kendall Thomas
What is critical race theory and why is it under fire from the political right? This foundational essay collection, which defines key terms and includes case studies, is the essential work to understand the intellectual movement. Edited by its principal founders and leading theoreticians, Critical Race Theory was the first book to gather the movement's most important essays. This groundbreaking book includes contributions from scholars including Derrick Bell, Kimberlé Crenshaw, Patricia Williams, Dorothy Roberts, Lani Guinier, Duncan Kennedy, and many others. It is essential reading in an age of acute racial injustice.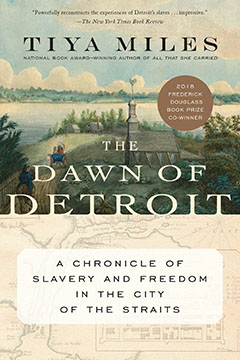 By Tiya Miles
Winner of the Frederick Douglass Book Prize,
The Dawn of Detroit
is a brilliant paradigm-shifting book that "transports the reader back to the eighteenth century and brings to life a multiracial community that began in slavery" (
The New York Times
), revealing for the first time that slavery was at the heart of the Midwest's iconic city. Hailed by
Publishers Weekly
in a starred review as "a necessary work of powerful, probing scholarship,"
The Dawn of Detroit
meticulously uncovers the experience of the unfree—both native and African American—in a place wildly remote yet at the center of national and international conflict. Read an excerpt from the book in the
Detroit Free Press
about the history of slavery in southeast Michigan.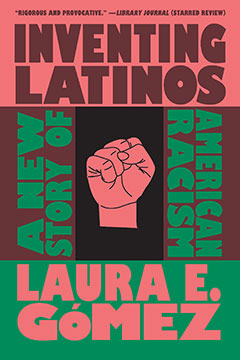 By Laura E. Gómez
Named one of the best books of the year by NPR,
Inventing Latinos
is a brilliant new framework with which to understand today's most pressing debates on race, immigration, and Latin American history. In this book, Laura E. Gómez, a leading expert on race, law, and society, illuminates the fascinating making, unmaking, and re-making of Latino identity that has spanned centuries, leaving a permanent imprint on how race operates in the United States today. Read Gómez's
commentary
on Hispanic Heritage Month on Medium.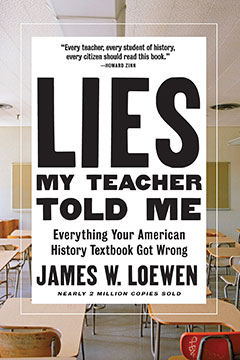 By James W. Loewen
What started out as a survey of the twelve leading American history textbooks has ended up being what the
San Francisco Chronicle
calls "an extremely convincing plea for truth in education." In
Lies My Teacher Told Me
, James W. Loewen brings history alive in all its complexity and ambiguity. Beginning with pre-Columbian history and ranging over characters and events as diverse as Reconstruction, Helen Keller, the first Thanksgiving, the My Lai massacre, 9/11, and the Iraq War, Loewen offers an eye-opening critique of existing textbooks and a wonderful retelling of American history as it should—and could—be taught to American students. Read an excerpt from
Lies My Teacher Told Me
in the
Washington Post
.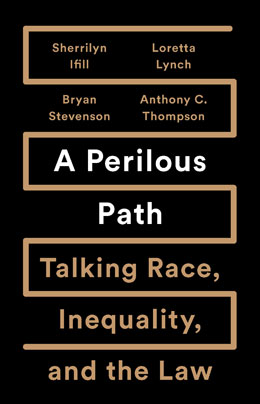 By Sherrilyn Ifill, Loretta Lynch, Bryan Stevenson, and Anthony C. Thompson
Called "a probing, provocative conversation on the national narrative in the Trump era" by
Kirkus Reviews
,
A Perilous Path
is a frank and enlightening discussion on race and the law in America today, from some of our leading legal minds. This blisteringly candid discussion of the American racial dilemma in the age of Black Lives Matter brings together the head of the NAACP Legal Defense Fund, the former attorney general of the United States, a bestselling author and death penalty lawyer, and a star professor for an honest conversation the country desperately needs to hear. Drawing on their collective decades of work on civil rights issues as well as personal histories of rising from poverty and oppression, these titans of the legal profession discuss the importance of working for justice in an unjust time.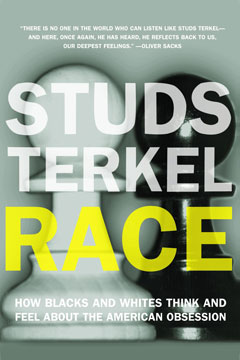 By Studs Terkel
First published in 1992 at the height of the furor over the Rodney King incident, Studs Terkel's Race was an immediate bestseller. In a rare and revealing look at how people in America truly feel about race, Terkel brings out the full complexity of the thoughts and emotions, uncovering a fascinating narrative of changing opinions.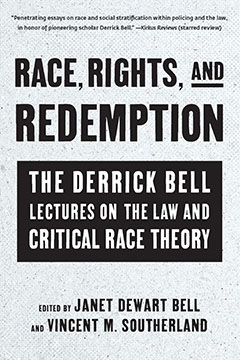 Edited by Janet Dewart Bell and Vincent M. Southerland
When Derrick Bell, one of the originators of critical race theory, turned sixty-five, his wife founded a lecture series with leading scholars, including critical race theorists, many of them Bell's former students. Now these lectures, given over the course of twenty-five years, are collected for the first time in a volume
Library Journal
calls "potent" and
Kirkus Reviews
, in a starred review, says "powerfully acknowledge[s] the persistence of structural racism." Read an excerpt from
Race, Rights, and Redemption
on
Medium
.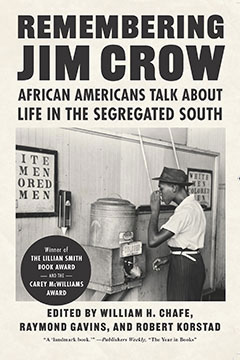 Edited by William H. Chafe, Raymond Gavins, and Robert Korstad
Praised as "viscerally powerful" (
Publishers Weekly
), this remarkable work of oral history captures the searing experience of the Jim Crow years through first-person interviews carefully collected by researchers at Duke University's Behind the Veil project. Newly relevant today as Americans reckon with the legacies of slavery and strive for racial equality,
Remembering Jim Crow
provides vivid, compelling accounts by men and women from all walks of life, who tell how their day-to-day lives were subjected to profound and unrelenting racial oppression.
By Devon W. Carbado
The summer of 2020 will be remembered as an unprecedented, watershed moment in the struggle for racial equality. Published on the second anniversary of the global protests over the police killings of George Floyd and Breonna Taylor, Unreasonable is a groundbreaking investigation of the role that the law—and the U.S. Constitution—play in the epidemic of police violence against Black people. A leading light in the critical race studies movement, Carbado looks at how the Fourth Amendment, in the last four decades, has been interpreted by the Supreme Court to protect police officers, not African Americans; how it sanctions search and seizure as well as profiling; and how it has become, ultimately, an amendment of life and death. Accessible, radical, and essential reading, Unreasonable sheds light on a rarely understood dimension of today's most pressing issue.
We hope that these titles shed light on the issues, provide nuance and understanding, and spur the kinds of conversations that lead to reflection and change. 
The New Press is able to fulfill its mission of publishing books for a more inclusive, just, and equitable world through the support of 
readers
, foundation grants, and contributions from 
individual donors
.
Blog section: