From Resilience to Resistance: Trans Kids and a History of Fighting Back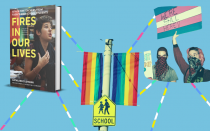 In late February, Texas governor Greg Abbott ordered the state's Department of Family and Protective Services (DFPS) to investigate parents of trans children who had accessed gender-affirming care for "child abuse." The governor has called on teachers, nurses, and doctors, as well as members of the public, to file reports with DFPS, further greenlighting the targeted harassment of parents and their trans children. 
The supposed intent of youth-focused legislation has been to "protect" children from "indoctrination" by schoolteachers and librarians, whom many conservatives accuse of "grooming" students into being gay or trans. In reality, queer youth have a long history of facing threats, speaking out for their own rights, and reaffirming their existence in face of discrimination.