11 Books on Climate and Environmental Justice for Earth Day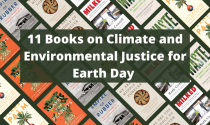 The original organizers of Earth Day, celebrated in the United States on April 22nd every year since 1970 and globally since the 1990s, were inspired by the campus teach-ins and demonstrations of the 1960s. The first Earth Day consisted of protests held across the United States with the goal of raising awareness to protect the planet from deadly pollution and environmental degradation. Decades later, we are facing a climate emergency that touches all our lives and exacerbates nearly every major social inequity. Dahr Jamail and Stan Rushworth's edited collection We Are the Middle of Forever quotes Hope elder Thomas Banyacya: "Mankind has a chance to change the direction of this movement, do a roundabout turn, and move in the direction of peace, harmony, and respect for land and life. The time is right now. Later will be too late."  
It is more important than ever to look to frontline communities—their history and actions—who have been fighting environmental racism for decades and have been the most affected by climate change, as we continue to educate ourselves and create a sustainable future for everyone. The following is a list of books The New Press has published that shine a light on these issues as we celebrate the 52nd Earth Day.
*     *     *     *     *     *     *     *     *     *
We Are the Middle of Forever: Indigenous Voices from Turtle Island on the Changing Earth
Edited by Dahr Jamail and Stan Rushworth
An innovative work of research and reportage, We Are the Middle of Forever places Indigenous voices at the center of conversations about today's environmental crisis. The book draws on interviews with people from different North American Indigenous cultures and communities, generations, and geographic regions, who share their knowledge and experience, their questions, their observations, and their dreams of maintaining the best relationship possible to all of life. A welcome antidote to the despair arising from the climate crisis, We Are the Middle of Forever brings to the forefront the perspectives of those who have long been attuned to climate change and will be an indispensable aid to those looking for new and different ideas and responses to the challenges we face. You can listen to an interview on "Storytelling Animals" here. 
Slaves for Peanuts: A Story of Conquest, Liberation, and a Crop That Changed History
by Jori Lewis
Lyrical and powerful, Slaves for Peanuts deftly weaves together the natural and human history of a crop that transformed the lives of millions. Author Jori Lewis reveals how demand for peanut oil in Europe ensured that slavery in Africa would persist well into the twentieth century, long after the European powers had officially banned it in the territories they controlled. Delving deep into West African and European archives, Lewis recreates a world on the coast of Africa that is breathtakingly real and unlike anything modern readers have experienced. You can read an interview with Jori in 
Civil Eats 
here
.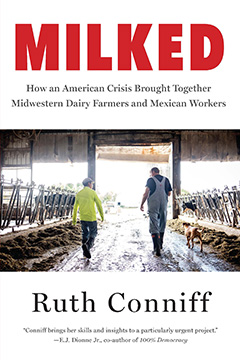 Milked: How an American Crisis Brought Together Midwestern Dairy Farmers and Mexican Workers
by Ruth Coniff
In the Midwest, Mexican workers have become critically important to the survival of rural areas and small towns—and to the individual farmers who rely on their work—with undocumented immigrants, mostly from Mexico, accounting for an estimated 80 percent of employees on the dairy farms of western Wisconsin. In
Milked
, former editor-in-chief of
The Progressive
Ruth Conniff introduces us to the migrants who worked on these dairy farms, their employers, among them white voters who helped elect Donald Trump to office in 2016, and the surprising friendships that have formed between these two groups of people. These stories offer a rich and fascinating account of how two crises—the record-breaking rate of farm bankruptcies in the Upper Midwest, and the contentious politics around immigration—are changing the landscape of rural America.
by Gregg Mitman
Empire of Rubber
tells a sweeping story of capitalism, racial exploitation, and environmental devastation, as Firestone transformed Liberia into America's rubber empire. Historian and filmmaker Gregg Mitman scoured remote archives to unearth a history of promises unfulfilled for the vast numbers of Liberians who toiled on rubber plantations built on taken land. Mitman reveals a history of racial segregation and medical experimentation that reflected Jim Crow America—on African soil. As Firestone reaped fortunes, wealth and power concentrated in the hands of a few elites, fostering widespread inequalities that fed unrest, rebellions and, eventually, civil war. Read a review of 
Empire of Rubber 
in 
Foreign Policy 
here.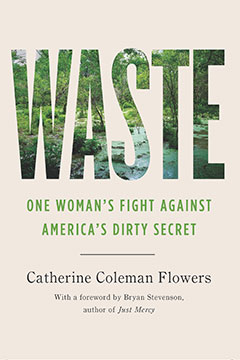 Waste: One Woman's Fight Against America's Dirty Secret
by Catherine Coleman Flowers
Waste, one of Smithsonian magazine's Ten Best Science Books of 2020, chronicles Flowers' journey from country girl to organizer and activist while highlighting the lack of access to basic sanitation many Americans face—what she calls America's dirty secret. Flowers' telling of systemic class, racial, and geographic prejudice shows that our sanitation problem can no longer be ignored as climate change brings sewage to the backyards of people other than poor minorities. Read an excerpt from the book.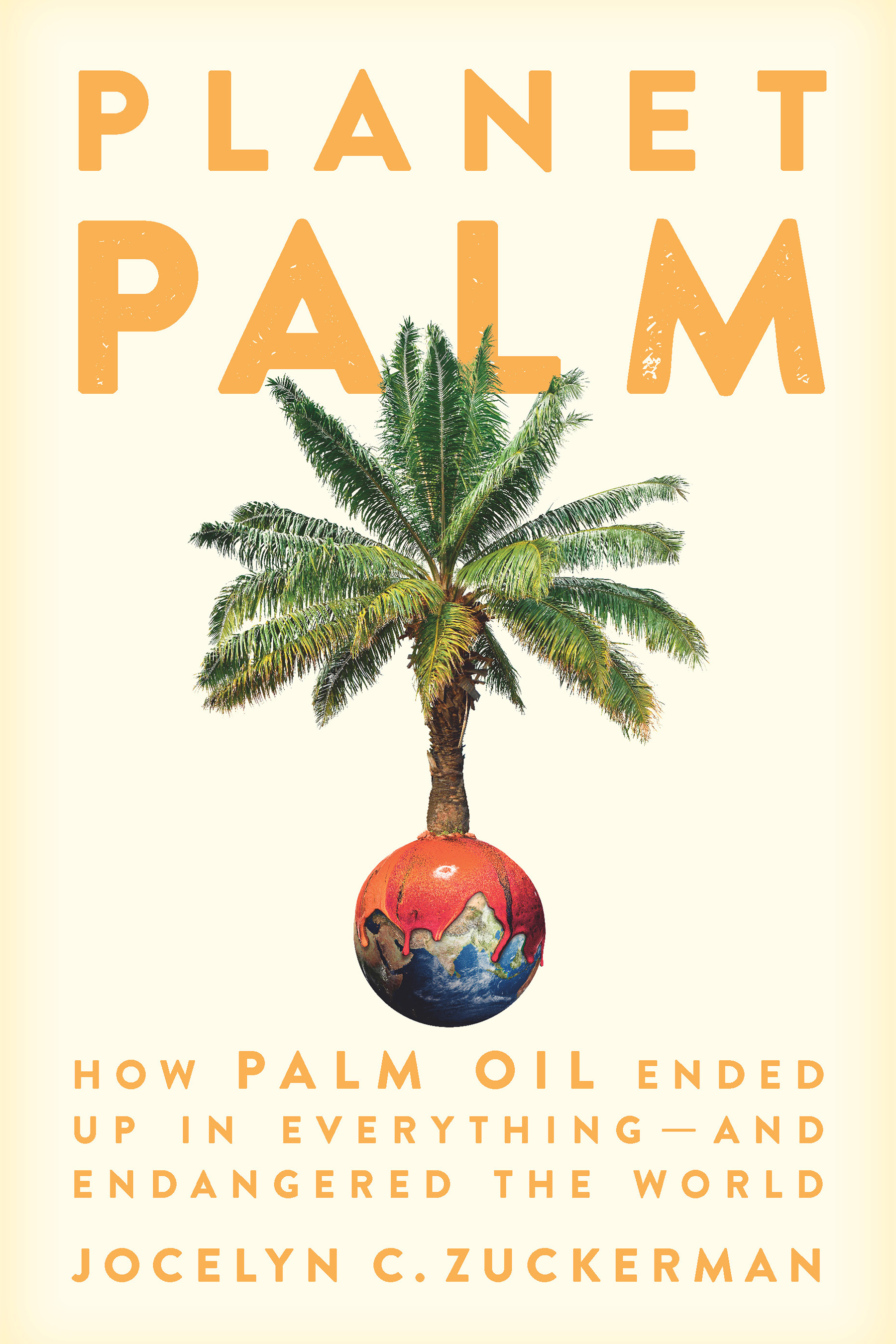 Planet Palm: How Palm Oil Ended Up in Evereything- and Endangered the World
by Jocelyn C. Zuckerman
Over the past few decades, palm oil has seeped into every corner of our lives. Worldwide, palm oil production has nearly doubled in just the last decade: oil-palm plantations now cover an area nearly the size of New Zealand, and some form of the commodity lurks in half the products on U.S. grocery shelves. But the palm oil revolution has been built on stolen land and slave labor; it's swept away cultures and so devastated the landscapes of Southeast Asia that iconic animals now teeter on the brink of extinction. Fires lit to clear the way for plantations spew carbon emissions to rival those of industrialized nations. James Beard Award–winning journalist Jocelyn C. Zuckerman spent years traveling the globe, from Liberia to Indonesia, India to Brazil, reporting on the human and environmental impacts of this poorly understood plant. The result is Planet Palm, a riveting account blending history, science, politics, and food as seen through the people whose lives have been upended by this hidden ingredient. Read a review of Planet Palm in Mongabay here.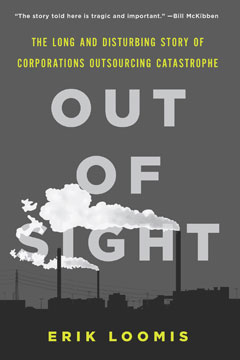 Out of Sight: The Long and Disturbing Story of Corporations Outsourcing Catastrophe
by Erik Loomis
A 2015 Choice Outstanding Academic Title, Out of Sight connects the labor movement to the environmental movement and urges readers to act: when we fight for our planet, we fight for our own dignity as workers and citizens. By connecting the Triangle Shirtwaist Factory fire in New York in 1911 to the collapse of the Rana Plaza factory outside of Dhaka, Bangladesh, in 2013 to each other, Loomis highlights the abusive nature of industrial production systems. More specifically, Loomis urges readings to fight for regulations that keep corporations from relocating to countries where they are, not only able to recreate toxic work conditions but also continue polluting the earth.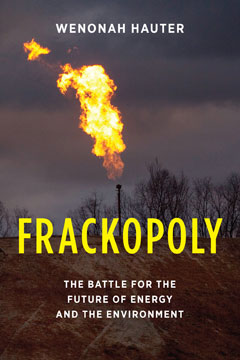 Frackopoly: The Battle for the Future of Energy and the Environment
by Wenonah Hauter
From the author of Foodopoly, Frackopoly describes the history of the fracking industry—those who support it and why—and the danger it poses to the environment and human health through the creation of "sacrifice zones." Frackopoly is an essential read for those interested in protecting the environment and the health of all Americans.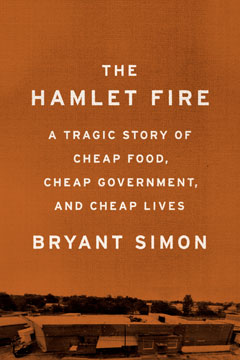 The Hamlet Fire: A Tragic Story of Cheap Food, Cheap Government, and Cheap Lives
by Bryant Simon
In The Hamlet Fire, award winning historian Bryant Simon, presents the vivid, potent, and disturbing social autopsy of Hamlet, North Carolina and the Imperial Food Products factory that burst into flames on September 3, 1991, killing twenty five people. Simon presents how cheap labor, cheap government, and cheap food came together in a way that was bound for tragedy eighty years after the Triangle Shirtwaist Fire.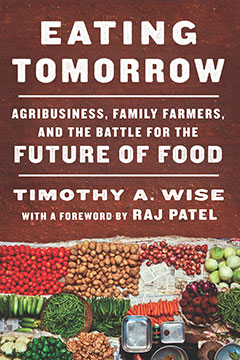 Eating Tomorrow: Agribusiness, Family Farmers, and the Battle for the Future of Food
by Timothy A. Wise
In country after country, Wise explains in this wake-up call, agribusiness and philanthropic promoters have hijacked food policies to feed corporate interests as climate change makes it increasingly difficult to successfully grow crops. While the victims in this climate drama, small scale farmers are also the protagonists that can teach us the way forward. Given that most of the world is fed by hundreds of millions of small-scale farmers it is vital that we listen to them.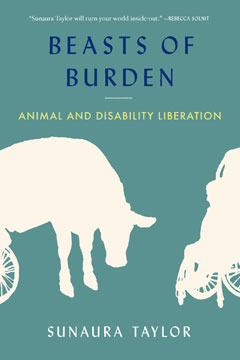 Beasts of Burden: Animal and Disability Liberation
by Sunaura Taylor
Drawing on her own experiences as a disabled person, a disability activist, and an animal advocate, author Sunaura Taylor persuades us to think deeply, and sometimes uncomfortably, about what divides the human from the animal, the disabled from the nondisabled—and what it might mean to break down those divisions, to claim the animal and the vulnerable in ourselves, in a process she calls "cripping animal ethics." Beasts of Burden suggests that issues of disability and animal justice—which have heretofore primarily been presented in opposition—are in fact deeply entangled. Read a review of Beasts of Burden in The New Yorker here.
Blog section: