THE NEW PRESS GIFT GUIDE
Friday, December 13, 2019
This holiday season, spread the gift of political education and consciousness-raising with our best-selling titles on education, racial justice, incarceration, labor, immigration, political science, and more- as well as our exciting new releases.
Our holiday reading list features award-winning journalists, seasoned activists, and eminent historians including Michelle Alexander, Tressie McMillan Cottom, Howard Zinn, Ian Haney Lopez, Lisa Delpit, Noam Chomsky, Studs Terkel, James Loewen, and Monique Morris.
Political Theory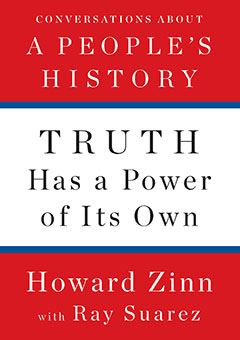 Truth Has a Power of its Own: Conversations About A People's History
Howard Zinn and Ray Suarez
Truth Has a Power of Its Own is an engrossing collection of never-before-published conversations with Howard Zinn, conducted by the distinguished broadcast journalist Ray Suarez in 2007, that covers the course of American history from Columbus to the War on Terror from the perspective of ordinary people—including slaves, workers, immigrants, women, and Native Americans.
Viewed through the lens of Zinn's own life as a soldier, historian, and activist and using his paradigm-shifting People's History of the United States as a point of departure, these conversations explore the American Revolution, the Civil War, the labor battles of the nineteenth and twentieth centuries, U.S. imperialism from the Indian Wars to the War on Terrorism, World Wars I and II, the Cold War, and the fight for equality and immigrant rights, all from an unapologetically radical standpoint. Longtime admirers and a new generation of readers alike will be fascinated to learn about Zinn's thought processes, rationale, motivations, and approach to his now-iconic historical work.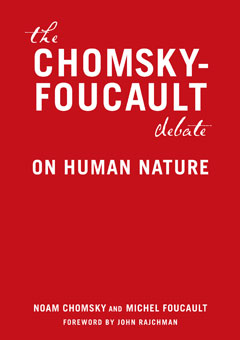 Noam Chomsky and Michel Foucault
In 1971, at the height of the Vietnam War and at a time of great political and social instability, two of the world's leading intellectuals, Noam Chomsky and Michel Foucault, were invited by Dutch philosopher Fons Elders to debate an age-old question: is there such a thing as "innate" human nature independent of our experiences and external influences?
The resulting dialogue is one of the most original, provocative, and spontaneous exchanges to have occurred between contemporary philosophers, and above all serves as a concise introduction to their basic theories. What begins as a philosophical argument rooted in linguistics (Chomsky) and the theory of knowledge (Foucault), soon evolves into a broader discussion encompassing a wide range of topics, from science, history, and behaviorism to creativity, freedom, and the struggle for justice in the realm of politics.
Race and Ethnicity
Tressie McMillan Cottom
A 2019 National Book Award finalist, featured by The Daily Show, NPR, PBS, CBC, Time, VIBE, Entertainment Weekly, Well-Read Black Girl, and Chris Hayes, "incisive, witty, and provocative essays" (Publishers Weekly) by one of the "most bracing thinkers on race, gender, and capitalism of our time" (Rebecca Traister). This "transgressive, provocative, and brilliant" (Roxane Gay) collection cements McMillan Cottom's position as a public thinker capable of shedding new light on what the "personal essay" can do. She turns her chosen form into a showcase for her critical dexterity, investigating everything from Saturday Night Live, LinkedIn, and BBQ Becky to sexual violence, infant mortality, and Trump rallies.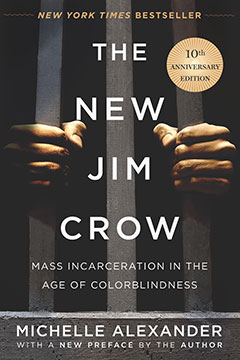 The New Jim Crow: Mass Incarceration in the Age of Colorblindness
Michelle Alexander
Seldom does a book have the impact of Michelle Alexander's The New Jim Crow. Since it was first published in 2010, it has been cited in judicial decisions and has been adopted in campus-wide and community-wide reads; it helped inspire the creation of the Marshall Project and the new $100 million Art for Justice Fund; it has been the winner of numerous prizes, including the prestigious NAACP Image Award; and it has spent nearly 250 weeks on the New York Times bestseller list.
Most important of all, it has spawned a whole generation of criminal justice reform activists and organizations motivated by Michelle Alexander's unforgettable argument that "we have not ended racial caste in America; we have merely redesigned it." As the Birmingham News proclaimed, it is "undoubtedly the most important book published in this century about the U.S."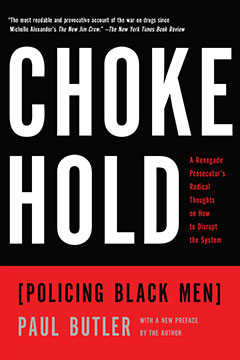 Paul Butler
Cops, politicians, and ordinary people are afraid of black men. The result is the Chokehold: laws and practices that treat every African American man like a thug. In this explosive new book, an African American former federal prosecutor shows that the system is working exactly the way it's supposed to. Black men are always under watch, and police violence is widespread—all with the support of judges and politicians.
In his no-holds-barred style, Butler, whose scholarship has been featured on 60 Minutes, uses new data to demonstrate that white men commit the majority of violent crime in the United States. For example, a white woman is ten times more likely to be raped by a white male acquaintance than be the victim of a violent crime perpetrated by a black man. Butler also frankly discusses the problem of black on black violence and how to keep communities safer—without relying as much on police.
Chokehold powerfully demonstrates why current efforts to reform law enforcement will not create lasting change.
Pushout: The Criminalization of Black Girls in Schools
Monique W. Morris
The "powerful" (Michelle Alexander) exploration—featured by The Atlantic, Essence, the Washington Post, New York magazine, NPR, and others—of the harsh and harmful experiences confronting Black girls in schools. Monique W. Morris (Black Stats, Too Beautiful for Words) chronicles the experiences of Black girls across the country whose intricate lives are misunderstood, highly judged—by teachers, administrators, and the justice system—and degraded by the very institutions charged with helping them flourish. Called "compelling" and "thought-provoking" by Kirkus Reviews, Pushout exposes a world of confined potential and supports the rising movement to challenge the policies, practices, and cultural illiteracy that push countless students out of school and into unhealthy, unstable, and often unsafe futures.
Pushout was instrumental in drafting Rep. Ayanna Pressley's Ending PUSHOUT Act, released earlier this month, which would establish $2.5 billion in new federal grants for schools that commit to a set of measures aimed at overhauling the ways schools handle discipline, such as banning most suspensions and expulsions, as well as corporal punishment and the physical restraint of students.
Lighting the Fires of Freedom: African American Women in the Civil Rights Movement
Janet Dewart Bell
Nominated for a 2019 NAACP Image Award, a groundbreaking collection of profiles of African American women leaders in the twentieth-century fight for civil rights.
During the Civil Rights Movement, African American women did not stand on ceremony; they simply did the work that needed to be done. Yet despite their significant contributions at all levels of the Movement, they remain mostly invisible to the larger public. Beyond Rosa Parks and Coretta Scott King, most Americans would be hard-pressed to name other leaders at the community, local, and national levels. In Lighting the Fires of Freedom, Janet Dewart Bell shines a light on women's all-too-often overlooked achievements in the Movement.
Kirkus Reviews described Lighting the Fires of Freedom as "candid testimony from impressive and influential women," and Publishers Weekly called it "a valuable and enlightening companion to other accounts of the movement." Through wide-ranging conversations with nine women, including Myrlie Evers, Leah Chase, and June Jackson Christmas—several now in their nineties with decades of previously untold stories—we hear what ignited and fueled their activism. Bell vividly captures their inspiring voices.
Education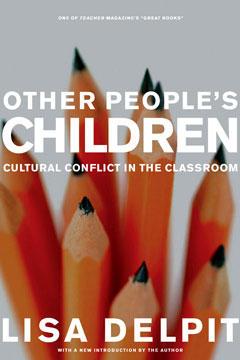 Other People's Children: Cultural Conflict in the Classroom
Lisa Delpit
Winner of an American Educational Studies Association Critics' Choice Award and Choice Magazine's Outstanding Academic book award, and voted one of Teacher Magazine's "great books," Other People's Children has sold over 150,000 copies since its original publication. This anniversary edition features a new introduction by Delpit as well as new framing essays by Herbert Kohl and Charles Payne.
In a radical analysis of contemporary classrooms, MacArthur Award–winning author Lisa Delpit develops ideas about ways teachers can be better "cultural transmitters" in the classroom, where prejudice, stereotypes, and cultural assumptions breed ineffective education. Delpit suggests that many academic problems attributed to children of color are actually the result of miscommunication, as primarily white teachers and "other people's children" struggle with the imbalance of power and the dynamics plaguing our system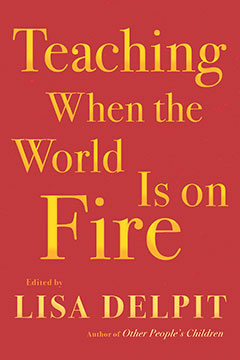 Teaching When the World is on Fire
Edited by Lisa Delpit
Is it okay to discuss politics in class? What are constructive ways to help young people process the daily news coverage of sexual assault? How can educators engage students around Black Lives Matter? Climate change? Confederate statue controversies? Immigration? Hate speech?
Delpit's master-teacher wisdom tees up guidance from beloved, well-known educators along with insight from dynamic principals and classroom teachers tackling difficult topics in K–12 schools every day.
This honest and rich collection brings together essential observations on safety from Pedro Noguera and Carla Shalaby; incisive ideas on traversing politics from William Ayers and Mica Pollock; Christopher Emdin's instructive views on respecting and connecting with black and brown students; Hazel Edwards's crucial insight about safe spaces for transgender and gender-nonconforming students; and James W. Loewen's sage suggestions about exploring symbols of the South; as well as timely thoughts from Bill Bigelow on teaching the climate crisis—and on the students and teachers fighting for environmental justice.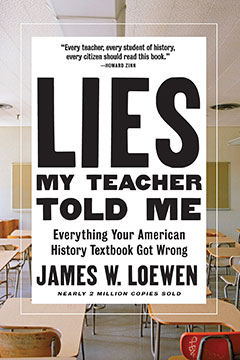 Lies My Teacher Told Me: Everything Your American History Textbook Got Wrong
James W. Loewen
Since its first publication in 1995, Lies My Teacher Told Me has become one of the most important—and successful—history books of our time. Having sold nearly two million copies, the book also won an American Book Award and the Oliver Cromwell Cox Award for Distinguished Anti-Racist Scholarship and was heralded on the front page of the New York Times.
For this new edition, Loewen has added a new preface that shows how inadequate history courses in high school help produce adult Americans who think Donald Trump can solve their problems, and calls out academic historians for abandoning the concept of truth in a misguided effort to be "objective." In Lies My Teacher Told Me, James W. Loewen brings history alive in all its complexity and ambiguity. Beginning with pre-Columbian history and ranging over characters and events as diverse as Reconstruction, Helen Keller, the first Thanksgiving, the My Lai massacre, 9/11, and the Iraq War, Loewen offers an eye-opening critique of existing textbooks, and a wonderful retelling of American history as it should—and could—be taught to American students.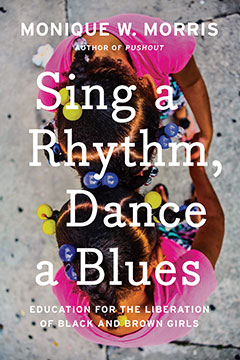 Sing a Rhythm, Dance a Blues: Education for the Liberation of Black and Brown Girls
Monique W. Morris
In her highly anticipated follow-up to the widely acclaimed Pushout, now a core text for teachers and principals on the criminalization of Black girls in schools, leading advocate Monique W. Morris invokes the spirit of the blues to articulate a radically healing and empowering pedagogy for Black and Brown girls.
A clarion call for educators, parents, and anyone who has a stake in a better tomorrow to transform schools into places where learning and collective healing can flourish, these pages journey from Oakland to Ohio and from New York to Iowa City and beyond. Morris describes with candor and love what it looks like to meet the complex needs of girls on the margins. In doing so she offers a collection of gems from educators who are attuned to the patterns of pain and struggle, and who show how adults working in schools can harness their wisdom to partner with students and help the girls they teach find value and joy in learning.
Sing a Rhythm, Dance a Blues reimagines what education might look like if schools placed the thriving of Black and Brown girls at their center. Morris brings together research and real life in this chorus of interviews, case studies, and the testimonies of remarkable people who work successfully with girls of color. The result is this radiant manifesto—a guide to moving away from punishment, trauma, and discrimination toward safety, justice, and genuine community in our schools.
Fires in the Bathroom: Advice for Teachers from High School Students
Kathleen Cushman
The acclaimed book of practical advice from students to their teachers
Since its initial publication in hardcover in 2003, Fires in the Bathroom has been through multiple printings and received the attention of teachers across the country. Now in paperback, Kathleen Cushman's groundbreaking book offers original insights into teaching teenagers in today's hard-pressed urban high schools from the point of view of the students themselves. It speaks to both new and established teachers, giving them firsthand information about who their students are and what they need to succeed.
Students from across the country contributed perceptive and pragmatic answers to questions of how teachers can transcend the barriers of adolescent identity and culture to reach the diverse student body in today's urban schools. With the fresh and often surprising perspectives of youth, they tackle tough issues such as increasing engagement and motivation, teaching difficult academic material, reaching English-language learners, and creating a classroom culture where respect and success go hand in hand.
Criminal Justice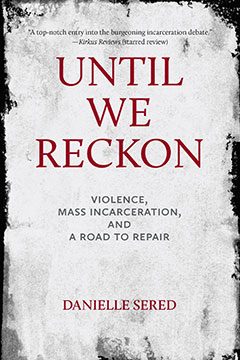 Until We Reckon: Violence, Mass Incarceration, and a Road to Repair
Danielle Sered
Although over half the people incarcerated in America today have committed violent offenses, the focus of reformers has been almost entirely on nonviolent and drug offenses. Danielle Sered's brilliant and groundbreaking Until We Reckon steers directly and unapologetically into the question of violence, offering approaches that will help end mass incarceration and increase safety.
Widely recognized as one of the leading proponents of a restorative approach to violent crime, Sered asks us to reconsider the purposes of incarceration and argues persuasively that the needs of survivors of violent crime are better met by asking people who commit violence to accept responsibility for their actions and make amends in ways that are meaningful to those they have hurt—none of which happens in the context of a criminal trial or a prison sentence.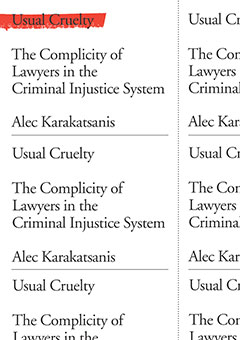 Usual Cruelty: The Complicity of Lawyers in the Criminal Injustice System
Alec Karakatsanis
From an award-winning civil rights lawyer comes a profound challenge to our society's normalization of the caging of human beings, and the role of the legal profession in perpetuating it. 
Alec Karakatsanis is interested in what we choose to punish. For example, it is a crime in most of America for poor people to wager in the streets over dice; dice-wagerers can be seized, searched, have their assets forfeited, and be locked in cages. It's perfectly fine, by contrast, for people to wager over international currencies, mortgages, or the global supply of wheat; wheat-wagerers become names on the wings of hospitals and museums.
He is also troubled by how the legal system works when it is trying to punish people. The bail system, for example, is meant to ensure that people return for court dates. But it has morphed into a way to lock up poor people who have not been convicted of anything. He's so concerned about this that he has personally sued court systems across the country, resulting in literally tens of thousands of people being released from jail when their money bail was found to be unconstitutional.
Usual Cruelty is a profoundly radical reconsideration of the American "injustice system" by someone who is actively, wildly successfully, challenging it.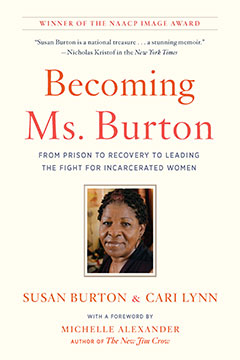 Becoming Ms. Burton: From Prison to Recovery to Leading the Fight for Incarcerated Women
Susan Burton and Cari Lynn
In this "stirring and moving tour-de-force" (John Legend), Susan Burton movingly recounts her own journey through the criminal justice system and her transformation into a life of advocacy. After a childhood of immense pain, poverty, and abuse in Los Angeles, the tragic loss of her son led her into addiction, which in turn led to arrests and incarceration. During the War on Drugs, Burton was arrested and would cycle in and out of prison for more than fifteen years. When, by chance, she finally received treatment, her political awakening began and she became a powerful advocate for "a more humane justice system guided by compassion and dignity" (Booklist, starred review). Her award-winning organization, A New Way of Life, has transformed the lives of more than one thousand formerly incarcerated women and is an international model for a less punitive and more effective approach to rehabilitation and reentry.
Winner of an NAACP Image Award and named a "Best Book of 2017" by the Chicago Public Library, here is an unforgettable book about "the breathtaking resilience of the human spirit" (Michelle Alexander).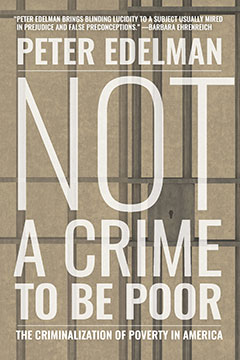 Not a Crime to Be Poor: The Criminalization of Poverty in America
Peter Edelman
In one of the richest countries on Earth it has effectively become a crime to be poor. For example, in Ferguson, Missouri, the U.S. Department of Justice didn't just expose racially biased policing; it also exposed exorbitant fines and fees for minor crimes that mainly hit the city's poor, African American population, resulting in jail by the thousands. As Peter Edelman explains in Not a Crime to Be Poor, the book that Evicted author Matthew Desmond calls "a powerful investigation into the ways the United States has addressed poverty. . . lucid and troubling",  Ferguson is everywhere: the debtors' prisons of the twenty-first century. The anti-tax revolution that began with the Reagan era led state and local governments, starved for revenues, to squeeze ordinary people, collect fines and fees to the tune of 10 million people who now owe $50 billion.
Former New York Times columnist Bob Herbert writes, "If there is one essential book on the great tragedy of poverty and inequality in America, this is it."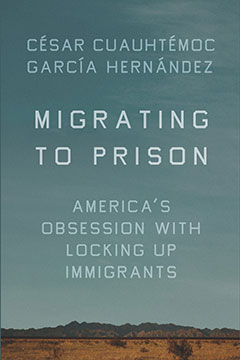 Migrating to Prison: America's Obsession with Locking Up Immigrants
César Cuauhtémoc García Hernández
For most of America's history, we simply did not lock people up for migrating here. Yet over the last thirty years, the federal and state governments have increasingly tapped their powers to incarcerate people accused of violating immigration laws. As a result, almost 400,000 people annually now spend some time locked up pending the result of a civil or criminal immigration proceeding.
In Migrating to Prison, leading scholar César Cuauhtémoc García Hernández takes a hard look at the immigration prison system's origins, how it currently operates, and why. He tackles the emergence of immigration imprisonment in the mid-1980s, with enforcement resources deployed disproportionately against Latinos, and he looks at both the outsized presence of private prisons and how those on the political right continue, disingenuously, to link immigration imprisonment with national security risks and threats to the rule of law.
Labor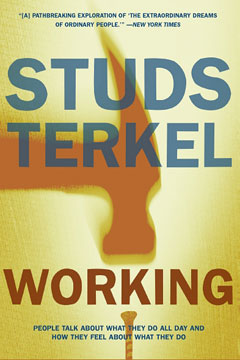 Working: People Talk About What They Do All Day and How They Feel About What They Do
Studs Terkel
Perhaps Studs Terkel's best-known book, Working is a compelling, fascinating look at jobs and the people who do them. Consisting of over one hundred interviews conducted with everyone from gravediggers to studio heads, this book provides a timeless snapshot of people's feelings about their working lives, as well as a relevant and lasting look at how work fits into American life.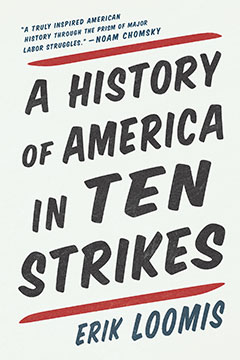 A History of America in Ten Strikes
Erik Loomis
Powerful and accessible, A History of America in Ten Strikes challenges all of our contemporary assumptions around labor, unions, and American workers. In this brilliant book, labor historian Erik Loomis recounts ten critical workers' strikes in American labor history that everyone needs to know about (and then provides an annotated list of the 150 most important moments in American labor history in the appendix). From the Lowell Mill Girls strike in the 1830s to Justice for Janitors in 1990, these labor uprisings do not just reflect the times in which they occurred, but speak directly to the present moment.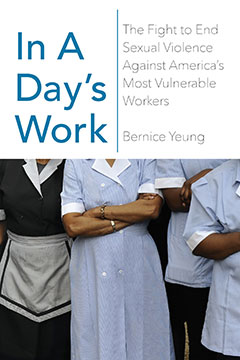 In a Day's Work: The Fight to End Sexual Violence Against America's Most Vulnerable Workers
Bernice Yeung
Finalist, 2019 Pulitzer Prize for General Nonfiction
Winner, 2019 PEN/John Kenneth Galbraith Award for Nonfiction
Winner, 2018 Goddard Riverside Stephan Russo Book Prize for Social Justice
Yeung takes readers on a journey across the country, introducing us to women who came to America to escape grinding poverty only to encounter sexual violence in the United States. The author mitigates the difficult material by bringing humanity, empathy, and hope to each page. In a Day's Work exposes the underbelly of economies filled with employers who take advantage of immigrant women's need to earn a basic living. When these women find the courage to speak up, Yeung reveals, they are too often met by apathetic bosses and underresourced government agencies. But In a Day's Work also tells a story of resistance, introducing a group of courageous allies who challenge dangerous and discriminatory workplace conditions alongside aggrieved workers—and win. Moving and inspiring, this book will change our understanding of the lives of immigrant women.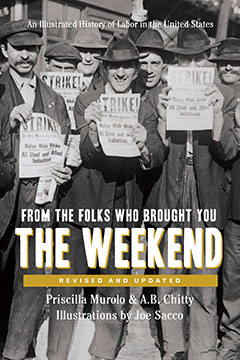 From The Folks Who Brought You the Weekend: An Illustrated History of Labor in the United States
Priscilla Murolo, A.B. Chitty
Illustrations by: Joe Sacco
"A marvelously informed, carefully crafted, far-ranging history of working people." —Noam Chomsky
Hailed as a work of "impressive even-handedness and analytic acuity" (Publishers Weekly, starred review), From the Folks Who Brought You the Weekend has set the standard for viewing American history through the prism of working people. From indentured servants and slaves in seventeenth-century Chesapeake to high-tech workers in contemporary Silicon Valley, the book "[puts] a human face on the people, places, events, and social conditions that have shaped the evolution of organized labor" (Library Journal), enlivened by numerous full-page illustrations throughout from the celebrated comics journalist Joe Sacco.
In this fully updated new edition, authors Priscilla Murolo and A.B. Chitty have added a wealth of fresh analysis of labor's role in American life, with new material on sex workers, disability issues, labor's relation to the global justice movement and the immigrants' rights movement, the 2005 split in the AFL-CIO and the movement civil wars that followed, and the crucial emergence of worker centers and their relationships to unions. With two entirely new chapters—one on global developments, from the movement of jobs offshore to the emergence of modern global union federations, and a second on the 2016 election and unions' relationships to Trump—From the Folks Who Brought You the Weekend will remain the standard, "comprehensive history of American labor" (The Washington Post).
Art and Culture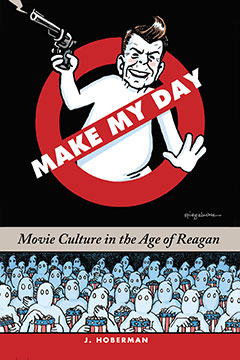 J. Hoberman
Make My Day: Movie Culture in the Age of Reagan
Celebrated cultural and film critic J. Hoberman's Make My Day is a major new work of film and pop culture history. In it he chronicles the Reagan years, from the waning days of the Watergate scandal when disaster films like Earthquake ruled the box office to the nostalgia of feel-good movies like Rocky and Star Wars, and the delirium of the 1984 presidential campaign and beyond.
Bookended by the Bicentennial celebrations and the Iran-Contra affair, the period of Reagan's ascendance brought such movie events as Jaws, Apocalypse Now, Blade Runner, Ghostbusters, Blue Velvet, and Back to the Future, as well as the birth of MTV, the Strategic Defense Initiative, and the Second Cold War. Here, Reagan takes center stage as the peer of Indiana Jones and John Rambo, the embodiment of a Hollywood that, even then, no longer existed.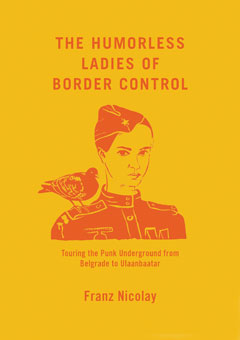 The Humorless Ladies of Border Control: Touring the Punk Underground from Belgrade to Ulaanbaatar
Franz Nicolay
A one-of-a-kind travelogue exploring the intersection of literature, politics, and punk rock idealism in Eastern Europe, the Balkans, Russia, Ukraine, and Mongolia. In 2009, musician Franz Nicolay left his job in the Hold Steady, aka "the world's greatest bar band." Over the next five years, he crossed the world with a guitar in one hand, a banjo in the other, and an accordion on his back, playing the anarcho-leftist squats and DIY spaces of the punk rock diaspora. 
While engaging with the works of literary predecessors from Rebecca West to Chekhov and the nineteenth-century French aristocrat the Marquis de Custine, Nicolay explores the past and future of punk rock culture in the postcommunist world in the kind of book a punk rock Paul Theroux might have written, with a humor reminiscent of Gary Shteyngart. An audacious debut from a vivid new voice, The Humorless Ladies of Border Control is an unforgettable, funny, and sharply drawn depiction of surprisingly robust hidden spaces tucked within faraway lands.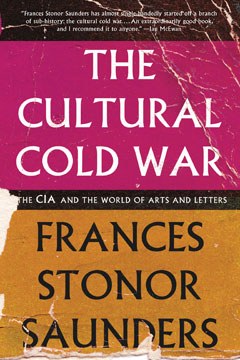 The Cultural Cold War: The CIA and the World of Arts and Letters
Frances Stonor Saunders
Winner of the Royal Historical Society's Gladstone Memorial Prize, the classic history of the CIA's covert funding of cultural activities—from the Boston Symphony Orchestra to Abstract Expressionism—during the Cold War, reissued with a new preface by the author.
During the Cold War, freedom of expression was vaunted as liberal democracy's most cherished possession—but such freedom was put in service of a hidden agenda. In The Cultural Cold War, Frances Stonor Saunders reveals the extraordinary efforts of a secret campaign in which some of the most vocal exponents of intellectual freedom in the West were working for or subsidized by the CIA—whether they knew it or not.
Called "the most comprehensive account yet of the [CIA's] activities between 1947 and 1967" by the New York Times, the book presents shocking evidence of the CIA's undercover program of cultural interventions in Western Europe and at home, drawing together declassified documents and exclusive interviews to expose the CIA's astonishing campaign to deploy the likes of Hannah Arendt, Isaiah Berlin, Leonard Bernstein, Robert Lowell, George Orwell, and Jackson Pollock as weapons in the Cold War. Translated into ten languages, this classic work—now with a new preface by the author—is "a real contribution to popular understanding of the postwar period" (The Wall Street Journal), and its story of covert cultural efforts to win hearts and minds continues to be relevant today.
Political Science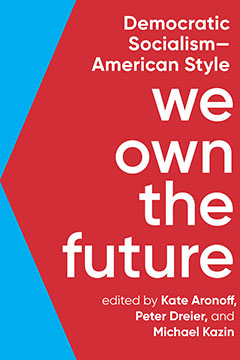 We Own the Future: Democratic Socialism—American Style
Edited by Kate Aronoff, Peter Dreier, and Michael Kazin
Among Americans under thirty, 43 percent had a favorable view of socialism, while only 32 percent had a favorable view of capitalism. Not since the Great Depression have so many Americans questioned the fundamental tenets of capitalism and expressed openness to a socialist alternative.
We Own the Future: Democratic Socialism—American Style offers a road map to making this alternative a reality, giving readers a practical vision of a future that is more democratic, egalitarian, inclusive, and environmentally sustainable. The book includes a crash course in the history and practice of democratic socialism, a vivid picture of what democratic socialism in America might look like in practice, and compelling proposals for how to get there from the age of Trump and beyond.
With contributions from some of the nation's leading political activists and analysts, We Own the Future articulates a clear and uncompromising view from the left—a perfectly timed book that will appeal to a wide audience hungry for change.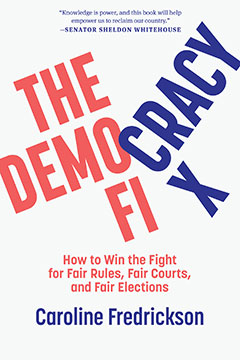 The Democracy Fix: How to Win the Fight for Fair Rules, Fair Courts, and Fair Elections
Caroline Fredrickson
Despite representing the beliefs of a minority of the American public on many issues, conservatives are in power not just in Washington, DC, but also in state capitals and courtrooms across the country. They got there because, while progressives fought to death over the nuances of policy and to bring attention to specific issues, conservatives focused on simply gaining power by gaming our democracy.
Now, in a sensational new book, Caroline Fredrickson—who has had a front-row seat on the political drama in DC for decades while working to shape progressive policies as special assistant for legislative affairs to President Clinton, chief of staff to Senator Maria Cantwell, deputy chief of staff to Senator Tom Daschle, and president of the American Constitution Society—argues that it's time for progressives to focus on winning. She shows us how we can learn from the Right by having the determination to focus on judicial elections, state power, and voter laws without stooping to their dishonest, rule-breaking tactics.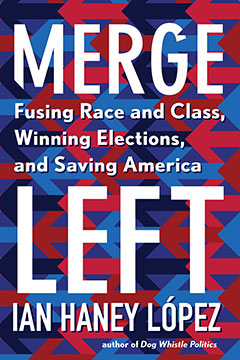 Merge Left: Fusing Race and Class, Winning Elections, and Saving America
Ian Haney López
From the acclaimed author of Dog Whistle Politics, an essential road map to neutralizing the role of racism as a divide-and-conquer political weapon and to building a broad multiracial progressive future.
The US is heading into what will surely be one of the most consequential elections ever, with the Right gearing up to exploit racial fear-mongering to divide and distract, and the Left splintered over the next step forward. Some want to focus on racial justice head-on; others insist that a race-silent focus on class avoids alienating white voters.
Can either approach—race-forward or colorblind—build the progressive supermajorities necessary to break political gridlock and fundamentally change the country's direction?
For the past two years, Haney López has been collaborating with a research team of union activists, racial justice leaders, communications specialists, and pollsters. Based on conversations, interviews, and surveys with thousands of people all over the country, the team found a way forward.
By merging the fights for racial justice and for shared economic prosperity, they were able to build greater enthusiasm for both goals—and for the cross-racial solidarity needed to win elections.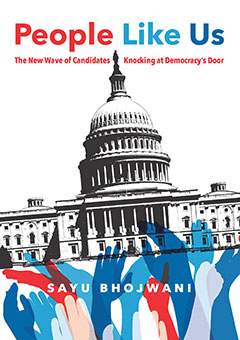 People Like Us: The New Wave of Candidates Knocking at Democracy's Door
Sayu Bhojwani
The system is rigged: America's political leadership remains overwhelmingly white, male, moneyed, and Christian. Even at the local and state levels, elected office is inaccessible to the people it aims to represent. But in People Like Us, political scientist Sayu Bhojwani shares the stories of a diverse and persevering range of local and state politicians from across the country who are challenging the status quo, winning against all odds, and leaving a path for others to follow in their wake.
In Anaheim, California, a previously undocumented Mexican American challenges the high-powered interests of the Disney Corporation to win a city council seat. In the Midwest, a thirty-something Muslim Somali American unseats a forty-four-year incumbent in the Minnesota house of representatives. These are some of the foreign-born, lower-income, and of-color Americans who have successfully taken on leadership roles in elected office despite xenophobia, political gatekeeping, and personal financial concerns. In accessible prose, Bhojwani shines a light on the political, systemic, and cultural roadblocks that prevent our elected officials from effectively representing a rapidly changing America, and offers forward-thinking solutions on how to get rid of these barriers.
LGBTQ
This Is How the Heart Beats: LGBTQ East Africa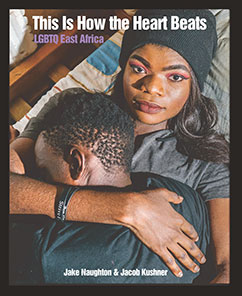 Jake Naughton, Jacob Kushner
This Is How the Heart Beats is a portrait by acclaimed photographer Jake Naughton of a group of East Africans who have fled unimaginable abuse in their homeland for the United States. One couple, Sulait and his boyfriend, had been tortured in prison in the months after the anti-homosexuality bill had been proposed and, on their release, had made their way to Kenya, where they were attacked by a mob of machete-wielding men. It was only after years in hiding that many such refugees have been resettled in the United States.
With an introduction by journalist Jacob Kushner and a foreword by Ugandan queer activist Ruth Muganzi, This Is How the Heart Beats is a record of LGBTQ forced migration unlike any other, following this community from its darkest moments to an uncertain future.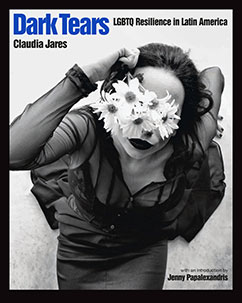 Dark Tears: LGBTQ Resilience in Latin America
Claudia Jares
In Dark Tears, award-winning Argentinian photographer and performance artist Claudia Jares takes her lens to the reality of queer experience in Argentina, Venezuela, and across Latin America, exploring questions of sexuality, religion, and identity with the raw eroticism that is the hallmark of her style. Here she tells the stories of a number of people struggling to come to terms with their identity in a region that, despite much progress in LGBTQ rights in recent years, still moves to a strongly conservative Christian heartbeat that condemns same-sex relations and reveres the institution of the heteronormative family.
Drawing on the queer traditions of burlesque and drag, Dark Tears is a journey into an interior erotic landscape as it profiles a number of different couples—gay, lesbian, gender nonconforming—to delve into the hidden corners and diverse configurations of human desire as it conflicts with more staid, traditional values. A balance of celebrating acceptance and recalling the clandestine, furtive history of queer sexuality, these explicit black-and-white and color images are a challenge to the viewer as voyeur, but also an invitation to enter with empathy into the intimate world of Jares's subjects.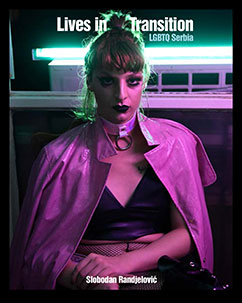 Slobodan Randjelović
In June 2001, Serbia witnessed its first gay pride parade in history in Belgrade's central square. It was a short-lived march, as an ultranationalist mob quickly descended on the participants, chanting homophobic slurs and injuring dozens. For years afterward, fear of violence prevented further marches, and when, in October 2010, the next pride march finally went ahead, it again devolved into violence as anti-gay rioters, firing shots and hurling petrol bombs, fought the police. It was only in 2014 that a pride march was held uninterrupted, albeit under heavy police protection.
In Lives in Transition, photographer Slobodan Randjelović captures the struggles and successes of twenty LGBTQ people living throughout Serbia—a conservative, religious country where, despite semi-progressive LGBTQ protection laws, homophobia fueled by religious authorities and right-wing political parties remains deeply entrenched. In a country where lack of employment opportunity and hostile families frequently drive queer people into poverty and isolation, these individuals have struggled to build a community that will offer solace, protection, and even joy. Lives in Transition portrays remarkable and inspiring resilience in the human struggle against a repressive social environment and demonstrates how friendship and community can help people shape their own futures.
Fiction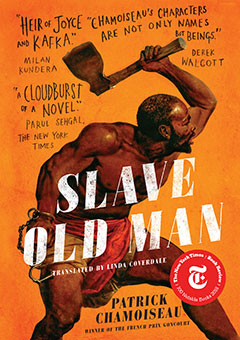 Patrick Chamoiseau
"Slave Old Man is a cloudburst of a novel, swift and compressed—but every page pulses, blood-warm. . . . The prose is so electrifyingly synesthetic that, on more than one occasion, I found myself stopping to rub my eyes in disbelief." —Parul Sehgal, The New York Times
Shortlisted for the National Book Critics Circle Award for Fiction, Patrick Chamoiseau's Slave Old Man was published to accolades in hardcover in a brilliant translation by Linda Coverdale, winning the French-American Foundation Translation Prize and chosen as a Publishers Weekly Best Book of 2018.
Now in paperback, Slave Old Man is a gripping, profoundly unsettling story of an elderly slave's daring escape into the wild from a plantation in Martinique, with his master and a fearsome hound on his heels. We follow them into a lush rain forest where nature is beyond all human control: sinister, yet entrancing and even exhilarating, because the old man's flight to freedom will transform them all in truly astonishing—even otherworldly—ways, as the overwhelming physical presence of the forest reshapes reality and time itself.
Chamoiseau's exquisitely rendered new novel is an adventure for all time, one that fearlessly portrays the demonic cruelties of the slave trade and its human costs in vivid, sometimes hallucinatory prose. Offering a loving and mischievous tribute to the Creole culture of early nineteenth-century Martinique, this novel takes us on a unique and moving journey into the heart of Caribbean history.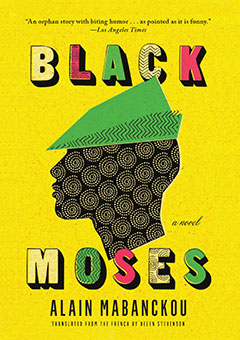 Alain Mabanckou
Winner of the Hurston-Wright Legacy Award, longlisted for the Man Booker International Prize, shortlisted for the Albertine Prize, shortlisted for the Aspen Words Literary Prize, and longlisted for the PEN Translation Prize, Alain Mabanckou's riotous novel was greeted with wildly enthusiastic reviews upon hardcover publication. It begins in an orphanage in 1970s Congo-Brazzaville run by a malicious political stooge who makes the life of our hero, Tokumisa Nzambe po Mose yamoyindo abotami namboka ya Bakoko—his name means "Let us thank God, the black Moses is born on the lands of the ancestors," but most people just call him Moses—very difficult.
Moses is also terrorized by his two fellow orphans—the twins Songi-Songi and Tala-Tala—but after Moses exacts revenge on the twins by lacing their food with hot pepper, the twins take Moses under their wing, escape the orphanage, and move to the bustling port town of Pointe-Noire, where they form a gang that survives on petty theft. What follows is a "pointed" (Los Angeles Times), "vivid and funny" (New York), larger-than-life tale that chronicles Moses's ultimately tragic journey through the Pointe-Noire underworld and the politically repressive reality of Congo-Brazzaville in the 1970s and '80s.
"Ringing with beautiful poetry" (Wall Street Journal), Black Moses is a vital new extension of Mabanckou's cycle of Pointe-Noire novels that stand out as one of the grandest, funniest, fictional projects of our time.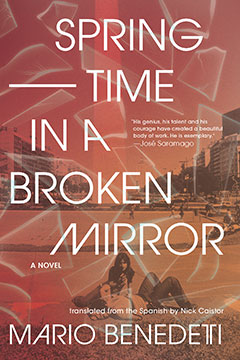 Mario Benedetti
From the author the New York Times Book Review calls "a lavishly gifted writer," this is the searing story of Tashi, a tribal African woman first glimpsed in The Color Purple whose fateful decision to submit to the tsunga's knife and be genitally mutilated leads to a trauma that informs her life and fatefully alters her existence. Possessing the Secret of Joy, out of print for a number of years, was the first novel to deal with this controversial topic and managed to do so in a manner that Cosmopolitan called "masterful, honorable, and unforgettable storytelling." The New Press is proud to bring the book back into print with a new preface by the author addressing the book's initial reception and the changed attitudes toward female genital mutilation that have come about in part because of this book.