Read an Excerpt from Suncatcher: A Novel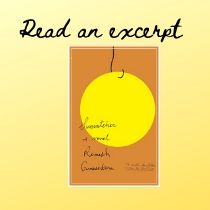 The latest from internationally celebrated author Romesh Gunesekera, Suncatcher debuted in the United States earlier this month. The novel tells a tumultuous, heartfelt coming-of-age story, praised by Kirkus Reviews as "a lyrical and evocative portrait of a Sri Lankan boyhood friendship and the life lessons that came with it."
Ceylon (as Sri Lanka was then known) is on the verge of change, but young Kairo is at loose ends. School is closed, the government is in disarray, the press is under threat, and the religious right are flexing their muscles. All Kairo wants to do is hide in his room and flick through secondhand westerns and superhero comics, or escape on his bicycle and daydream. Then he meets the magnetic teenage Jay, and his whole world is turned inside out.
The following excerpt from Suncatcher was featured in Literary Hub, where it was also named one of Book Marks' "Best Reviewed Books of the Week" on its release. In this sneak peek, Kairo gets his first taste of Jay's rebellious lifestyle—which initiates a craving for a world bigger than his own.
*     *     *     *     *
I first met Jay in a church car park off the high road, midway as the crow flies between the mosque and the temple, one June afternoon in 1964; two boys on the brink of a bond that would alter the course of our lives, neither knowing which one would blink first, or fall furthest – nor the cost of finding out. He rode in, hands on hips, freewheeling on the dusty tarmac using only his weight to steer his bike as he leant from side to side. Blue stripy feathers and rawhide tied to the upside-down handlebars twirled in the hot, sticky air; the sun-baked streaks on his proud boyish cheeks shone like warpaint.

'Wanna race?' He lobbed the challenge, veering close.

I wheeled around the hooded statue of Saint Thérèse.

'Where?'

'The scarp: Torrington.' Jay stretched his long, slender neck – more like a swan than an eagle – strands of damp hair playing across his open face. 'If you dare.'

'Been down that.' From the beginning I lied. Although it might have been the steepest slope in my part of town, I didn't see why that should be a problem if it didn't bother him. My only misgiving was the rivalry I felt rising in my chest, seeding trouble.

Jay spun his pedals backwards. A big bowie knife – a real one with an antler handle – leered from his belt. 'Scary, huh? The graveyard over that wall? Dead men's bones?'

His lips opened wider, revealing a crescent of awkward adolescent teeth.

'Nah.' The word came out wrong, stretched and warbled instead of strong and defiant.

Even if I had ventured into the cemetery and been scared, I was not going to admit it to some maverick floating by – whatever he had strapped to his belt. Jay was taller, probably older by a couple of years – neither of us could tell exactly by how much for sure – but that did not discourage us from circling closer and finding a nervous delight in the novelty of each other. For days, I had been worried by the idea that the more you savour something, the sooner it might disappear, but I said nothing more. I'd learnt young the uses of silence: others would always fill it with the words they wanted to hear, and you'd be let off.

He dismounted and pinned a tightly folded piece of flutter-paper to the rear strut of his bike. He strummed the spokes, then got back on and set off, the wheel whirring as if it had wings attached.

I needed a guide, a hero, illumination; Jay, I now know, needed an acolyte.

At the turn-off, where the big tamarind trees brooded, he stopped and waited for me to catch up. 'Pedal hard – even if you think you are hurtling. Streamline everything. You have to build up a heck of a lot of speed, like a bullet, to climb up the other side.' He blew at his loose hair with an upward puff.

Hurtling? Like scarp, another word no other schoolboy I knew would use. I tightened my hands on the rubber grips. He must have guessed I hadn't zoomed down the hill before but didn't seem to care that I had pretended.

'Actually, I haven't done this before. Not really.'

'So, you ready?' he grinned, planting dimples in both cheeks. 'When you get to the bottom, ring your bell and start pedalling like mad.'

'Okay.' I fingered the trigger of my bell, absolved.

'Right. One, two, three. Go.'

A fraction of a second behind Jay, whose silver bike did hurtle, I bent low, gripping hard, and flew. The grey cemetery wall, stray bougainvillea and mimosa melted into a thin blur. We whizzed past two sun-dipped women collecting water from a standpipe, tyres spraying sparklets, thumbs jabbing tinkle-tankle, flooding the valley with peals of laughter. Then the road reared up; everything slowed.

'Come on,' Jay called out from the summit. 'Pedal harder.' Even standing on the pedals would not make them go around fast enough. I ground to a stop and had to push my bike the rest of the way, ashamed that my muscles proved to be the dead loss I'd always suspected them to be.

'Too much, huh?' Jay called out, his long body slouched in the saddle.

'Couldn't do it. The last bit.'

'You need another gear.' Jay clicked the lever on the decorated handlebar with his thumb and ran through the changes. He did not mock me. 'Let's go for a Chocolac.'
*     *     *     *     *
Want to know what happens next? Pick up a copy of Suncatcher, on sale now. Take a look at our Romesh Gunesekera Reading List to find your next read by the author the New York Times called "a masterly storyteller."
 
Blog section: