Past Events
June 2022
June 23, 2022

,

What values hold the nation together, and what does it mean to be a "good citizen"?
June 15, 2022

,

This event is free with first come, first served seating.
June 9, 2022

,

Join Green Apple Books for a virtual conversation about Title IX and the 50th anniversary of the landmark legislation, which prohibited sex-based . . .
June 7, 2022

,

We Are the Middle of Forever editors Dahr Jamail and Stan Rushworth join interviewees Melissa K.
June 2, 2022

,

Ying Zhu discusses her forthcoming book Hollywood in China and charts a century of relations between Hollywood and China against the . . .
May 2022
May 25, 2022

,
Chicago IL
Join the University of Chicago's Center for Effective Government, the Chicago Center on Democracy, and Seminary Co-op Bookstores for a hybrid in- . . .
May 24, 2022

,
Cambridge MA
Harvard Book Store welcomes bestselling author and political analyst ROBERT KUTTNER for a discussion of his new book Going Big: FDR's Legacy, . . .
May 19, 2022

,

The Center for Progressive Reform hosts a book launch event to celebrate the publication of Demolition Agenda: How Trump Tried to Dismantle . . .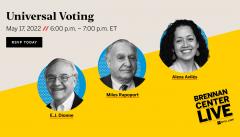 May 17, 2022

,

Join the Brennan Center for Justice at NYU Law School for a virtual event with EJ Dionne and Miles Rapoport to discuss their new book 100% . . .
May 10, 2022

,
Minneapolis MN
Today's headlines (as well as most of American history) are filled with fights over voting restrictions versus expanding citizens' rights to the . . .
May 10, 2022

,

Join the Car Center for Human Rights Policy at the Harvard Kennedy School for a launch event to celebrarte the publication of Holding Together: . . .
May 9, 2022

,

Join Freedom House for a conversation with Sushma Raman and John Shattuck about their new book Holding Together: The Hijacking of Rights in . . .
Pages