Remembering the Nakba: Essential Reading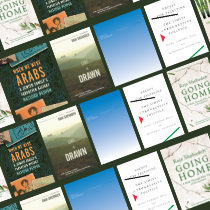 Today marks the 73rd anniversary of the Nakba, the 1948 destruction of the Palestinian homeland and the displacement of its people. Now, as violence escalates in the region and the Israeli occupation continues, forcing even more Palestinians from their homes, the United States must reckon with its role in the conflict, namely its continued financial and military support for the Israeli occupation. 
Here, the New Press presents five essential texts exploring the experience of Palestinians under occupation as well as US policy, bringing together leading writers, journalists, and scholars.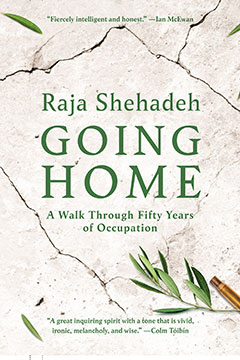 Going Home: A Walk Through Fifty Years of Occupation
By Raja Shehadeh
In a dazzling mix of reportage, analysis, and memoir, the leading Palestinian writer of our time reflects on aging, failure, the occupation, and the changing face of Ramallah. Set in a single day—the day that happens to be the fiftieth anniversary of Israel's occupation of the West Bank and Gaza—the book is a powerful and moving record and chronicle of the changing face of his city. Here is a city whose green spaces—gardens and hills crowned with olive trees—have been replaced by tower blocks and concrete lots; where the Israeli occupation has further entrenched itself in every aspect of movement, from the roads that can and cannot be used to the bureaucratic barriers that prevent people leaving the West Bank. A penetrating evocation of memory, pain, and place that is lightened by everyday joys such as delightful accounts of shared meals and gardening, Going Home is perhaps Raja Shehadeh's most moving and painfully visceral addition to his series of personal histories of the occupation, confirming Rachel Kushner's judgment that "Shehadeh is a buoy in a sea of bleakness."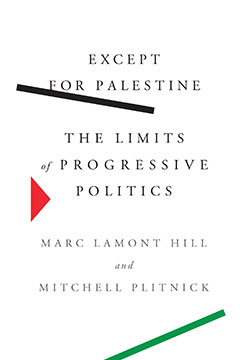 Except for Palestine: The Limits of Progressive Politics
By Marc Lamont Hill and Mitchell Plitnick
In this major work of daring criticism and analysis, scholar and political commentator Marc Lamont Hill and Israel-Palestine expert Mitchell Plitnick spotlight how holding fast to one-sided and unwaveringly pro-Israel policies reflects the truth-bending grip of authoritarianism on both Israel and the United States. Except for Palestine deftly argues that progressives and liberals who oppose regressive policies on immigration, racial justice, gender equality, LGBTQ rights, and other issues must extend these core principles to the oppression of Palestinians. In doing so, the authors take seriously the political concerns and well-being of both Israelis and Palestinians, demonstrating the extent to which U.S. policy has made peace harder to attain. They also unravel the conflation of advocacy for Palestinian rights with anti-Semitism and hatred of Israel.  Except for Palestine is a searing polemic and a cri de coeur for elected officials, activists, and everyday citizens alike to align their beliefs and politics with their values.
When We Were Arabs: A Jewish Family's Forgotten History
By Massoud Hayoun
There was a time when Oscar Hayoun, a Jewish Arab, strode along the Nile in a fashionable suit, long before he and his father arrived at the port of Haifa to join the newly formed Zionist state- only to find themselves hosed down with DDT and then left unemployed on the margins of society. In that time, Arabness was a mark of cosmopolitanism, of intellectualism. Today, in the age of the Likud and ISIS, Oscar's son, the Jewish Arab journalist Massoud Hayoun whom Oscar raised in Los Angeles, finds his voice by telling his family's story. When We Were Arabs showcases the gorgeous prose of the Eppy Award–winning writer Massoud Hayoun, bringing the worlds of his grandparents alive, vividly shattering our contemporary understanding of what makes an Arab, what makes a Jew, and how we draw the lines over which we do battle.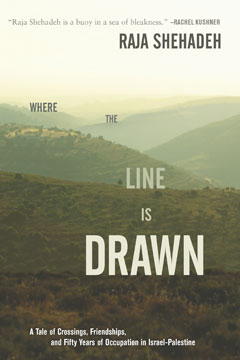 Where the Line Is Drawn: A Tale of Crossings, Friendships, and Fifty Years of Occupation in Israel-Palestine
By Raja Shehadeh
In Where the Line Is Drawn, Shehadeh explores how occupation has affected him personally, chronicling the various crossings that he undertook into Israel over a period of forty years to visit friends and family, to enjoy the sea, to argue before the Israeli courts, and to negotiate failed peace agreements.
Those forty years also saw him develop a close friendship with Henry, a Canadian Jew who immigrated to Israel at around the same time Shehadeh returned to Palestine from studying in London. While offering an unforgettably poignant exploration of Palestinian-Israeli relationships, Where the Line Is Drawn also provides an anatomy of friendship and an exploration of whether, in the bleakest of circumstances, it is possible for bonds to transcend political divisions.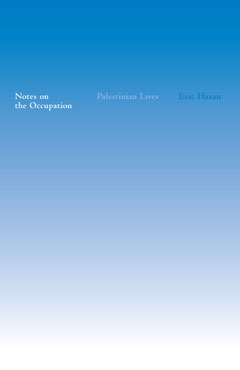 Notes on the Occupation: Palestinian Lives
By Eric Hazan, with an introduction by Rashid Khalidi
In Notes on the Occupation, critic and intellectual Eric Hazan provides crucial insight into life in the occupied state. 
With an introduction by celebrated Middle East scholar Rashid Khalidi and an epilogue by activist Michel Warschawski, Notes on the Occupation is a rare portrait of a population living with the reality of war and the dream of peace.
Blog section: