Celebrating Pride Month: Essential Reading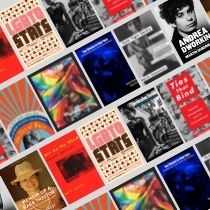 The traditional construction of gender is one of the pillars of a capitalist society. For decades LGBTQ people have challenged those constructions, and faced violence to do so. For Pride month, we're spotlighting New Press titles that explore those struggles, as well as titles by LGBT writers, and how through them we can learn to get free.
Mouths of Rain: An Anthology of Black Lesbian Thought
Edited by Briona Simone Jones
African American lesbian writers and theorists have made extraordinary contributions to feminist theory, activism, and writing. Mouths of Rain, the companion anthology to Beverly Guy-Sheftall's classic Words of Fire, traces the long history of intellectual thought produced by Black Lesbian writers, spanning the nineteenth century through the twenty-first century.
Mouths of Rain includes writing by Black women across generations who have shared intimate and loving relationships with other women, as well as Black women who see bonding as mutual, Black women who have self-identified as lesbian, Black women who have written about Black Lesbians, and Black women who theorize about and see the word lesbian as a political descriptor that disrupts and critiques capitalism, heterosexism, and heteropatriarchy. Taking its title from a poem by Audre Lorde, Mouths of Rain addresses pervasive issues such as misogynoir and anti-blackness while also attending to love, romance, "coming out," and the erotic. This astonishing collection features poems, songs, essays, and speeches by luminaries like Ma Rainey, Cheryl Clarke, Dionne Brand, Kai Davis, and Mecca Jamilah Sullivan. 
Pride & Joy: Taking the Streets of New York City
By Jurek Wajdowicz
With an introduction by Kate Clinton
More than forty years have passed since members of the LGBTQ community took to the streets of New York City on the first anniversary of the Stonewall Riots for the world's first march for gay rights. From its modest, though ambitious, beginnings, the annual event has grown into an all-encompassing celebration of queer culture, drawing more than a million people. It has also come to mean many things to many people. For some, Pride has become too commercial or irrelevant as queer culture has become mainstream. To others, the festivities should be less about the politics of the gay rights movement and more about a joyful celebration of what it means to be queer.
But for anyone with a passion for freedom and for vivid, thoughtful photography, Pride & Joy—by noted photographer Jurek Wajdowicz with an introduction by the nationally known satirist and activist Kate Clinton and published in the wake of the historic U.S. Supreme Court decision on same-sex marriage—is an ode to this New York institution. Energetic, colorful, and irreverent, these images are a playful confirmation of equality. Incorporating portraits of marchers and bystanders and leading figures in the LGTBQ community, these photographs revel in the rich diversity of the parade. Exquisitely presented, the book includes interviews with members of the queer community about their relationship to the march, offering a startling variety of responses to this integral part of New York life. Pride & Joy is an inspiration not only to the queer community but to all those still fighting for their basic human rights.
Two Women in Their Time: The Belarus Free Theatre and the Art of Resistance
By Misha Friedman, with an introduction by Masha Gessen
In the fall of 2017, the internationally acclaimed underground theater troupe Belarus Free Theatre took New York by storm for a production of their harrowing anti-torture, anti-Putin play, Burning Doors. They were joined by Maria Alyokhina, a member of Russian punk group Pussy Riot, who made international headlines when they were imprisoned for staging an anti-Putin performance in a Moscow cathedral. The play met with enthusiastic acclaim from critics, with New York magazine praising it as a "smart, smoldering, physically brutal piece of theater."
In Two Women in Their Time, award-winning documentary photographer Misha Friedman and New Yorker reporter Masha Gessen take us backstage, giving us an intimate look at this fiercely creative drama troupe that cannot officially perform in its homeland, which remains a dictatorship in all but name. The result is an astonishing series of photos documenting the group's productions in New York and Gessen and Friedman's visit to Minsk to meet Svetlana Sugako and Nadezhda Brodskaya, the young lesbian couple who keep the Belarus Free Theatre running. They live a life in the borderlands—between underground and public, between the closet and being out, in a country where same-sex sexual activity is legal yet remains taboo. Their work proves that queerness will always be dangerous to autocracy.
Memoirs of a Race Traitor: Fighting Racism in the American South
By Mab Segrest
In 1994, Mab Segrest first explained how she "had become a woman haunted by the dead." Against a backdrop of nine generations of her family's history, Segrest explored her experiences in the 1980s as a white lesbian organizing against a virulent far-right movement in North Carolina.
Memoir of a Race Traitor became a classic text of white antiracist practice. bell hooks called it a "courageous and daring [example of] the reality that political solidarity, forged in struggle, can exist across differences." Adrienne Rich wrote that it was "a unique document and thoroughly fascinating." Juxtaposing childhood memories with contemporary events, Segrest described her journey into the heart of her culture, finally veering from its trajectory of violence toward hope and renewal. Now, amid our current national crisis driven by an increasingly apocalyptic white supremacist movement, Segrest returns with an updated edition of her classic book.
Art on My Mind: Visual Politics
bell hooks
In Art on My Mind, bell hooks, a leading cultural critic, responds to the ongoing dialogues about producing, exhibiting, and criticizing art and aesthetics in an art world increasingly concerned with identity politics. Always concerned with the liberatory black struggle, hooks positions her writings on visual politics within the ever-present question of how art can be an empowering and revolutionary force within the black community.
Andrea Dworkin: The Feminist as Revolutionary
Martin Duberman
Fifteen years after her death, Andrea Dworkin remains one of the most important and challenging figures in second-wave feminism. Although frequently relegated to its more radical fringes, Dworkin was without doubt a formidable and influential writer, a philosopher, and an activist—a brilliant figure who inspired and infuriated in equal measure. Her many detractors were eager to reduce her to the caricature of the angry, man-hating feminist who believed that all sex was rape, and as a result, her work has long been misunderstood. It is in recent years, especially with the rise of the #MeToo movement, that there has been a resurgence of interest in her ideas.
This biography is the perfect complement to the widely reviewed anthology of her writing, Last Days at Hot Slit, published in 2019, providing much-needed context to her work. Given exclusive access to never-before-published photographs and archives, including her letters to many of the major figures of second-wave feminism, award-winning biographer Martin Duberman traces Dworkin's life, from her abusive first marriage through her central role in the sex and pornography wars of the following decades. This is a vital, complex, and long overdue reassessment of the life and work of one of the towering figures of second-wave feminism.
Ties That Bind: Familial Homophobia and Its Consequences
By Sarah Schulman
Hailed as "a cri de coeur woven into a utopian vision" by Susan Brownmiller (author of Against Our Will), Ties That Bind is the highly praised work of prizewinning writer and professor Sarah Schulman on "familial homophobia," a phenomenon that, until now, has not had a name but is nevertheless an integral part of most people's experience. Ties That Bind invites us to understand familial homophobia as a cultural crisis, rather than a personal or an individual problem.
Ambitious, original, and deeply important, Schulman's book draws on her own lived experience, her research, and her engagement with active social change to articulate a practical, attainable vision of transformation that can begin today.
By David Deschamps and Bennett Singer
With an afterword by Jennifer Finney Boylan
LGBTQ Stats chronicles the ongoing LGBTQ revolution, providing the critical statistics, and draws upon and synthesizes newly collected data. Deschamps and Singer—whose previous books and films on LGBTQ topics have won numerous awards and found audiences worldwide—provide chapters on family and marriage, workplace discrimination, education, youth, criminal justice, and immigration, as well as evolving policies and laws affecting LGBTQ communities. A chapter on LGBTQ life around the globe contrasts the dramatic progress for LGBTQ people in the United States with violent backlash in countries such as Russia, Iran, and Nigeria, which have discriminatory laws that make same-sex activity punishable by prison or death.
A lively, accessible, and eye-opening snapshot, LGBTQ Stats offers an invaluable resource for activists, journalists, lawmakers, and general readers who want the facts and figures on LGBTQ lives in the twenty-first century.
Revealing Selves: Transgender Portraits from Argentina
By Kike Arnal, with an introduction by Josefina Fernandez
Argentina was the first nation in Latin America to legalize same-sex marriage. It also passed legislation making it one of the most advanced countries worldwide in terms of transgender rights—the culmination of a long battle fought by LGBTQ support groups.
In Revealing Selves, award-winning photographer Kike Arnal collaborates with individuals in Argentinian transgender communities, living side by side with them and documenting their day-to-day lives in a series of strikingly intimate color and black-and-white images. Among them are a former sex worker who is now a recognized leader of the Buenos Aires trans community, a single trans mother of three teenage girls whose partner had fallen victim to drug abuse, and the residents of the Hotel Gondolin, a small, derelict family hotel now inhabited by a few dozen trans women.
Revealing Selves is both a celebration of the trans community in Argentina and a clear-eyed examination of what remains to be done in the struggle for trans rights.
Hold Tight Gently: Michael Callen, Essex Hemphill, and the Battlefield of AIDS
By Martin Duberman
In December 1995, the U.S. Food and Drug administration approved the release of protease inhibitors, the first effective treatment for AIDS. For countless people, the drug offered a reprieve from what had been a death sentence; for others, it was too late. In the United States alone, more than 318,000 people had already died from AIDS-related complications—among them the singer Michael Callen and the poet Essex Hemphill.
"Relevant and heartbreaking" (Bay Area Reporter), "incisive, passionate, and poetic" (New York Journal of Books), and "powerful" (Kirkus Reviews), Hold Tight Gently is Martin Duberman's poignant memorial to two of the great unsung heroes of the early years of the epidemic. Callen, the author of How to have Sex in an Epidemic, was a leading figure in the fight against AIDS in the face of willful denial under the Reagan administration. Hemphill, a passionate activist and the author of the celebrated Ceremonies, was a critically acclaimed, openly gay African American poet of searing intensity and introspection.
A profound exploration of the intersection of race, sexuality, class, and identity, Hold Tight Gently captures both a generation struggling to cope with the deadly disease and the extraordinary refusal of two men to give in to despair.
Blog section: