8 Books to Read for International Workers' Day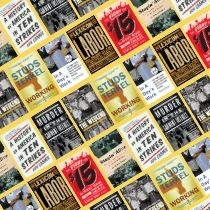 May 1 is International Workers' Day (also known as May Day), a day to honor laborers, labor movements, and the fight for workers' rights. We're celebrating by sharing a selection of books that present portraits of the American worker at different points in time, that tell the history of the labor movement in the US, and catch us up on contemporary fights to champion the rights of workers.
The fight for a living wage and workplace safety has continued into the coronavirus pandemic, with many strikes and actions planned on May Day by frontline warehouse and grocery store workers. Renowned public intellectual Noam Chomsky joins historian and author Erik Loomis for an urgent conversation on the implications of recent worker actions during the crisis and the future of labor in an online May Day discussion on Friday, May 1, 2020 at 4:00 pm ET. The event is part of the #RadicalMay, a month-long series of online talks, roundtables, and debate to engage ideas that will transform the world.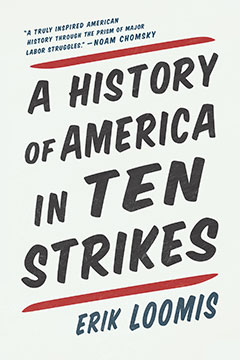 A History of America in Ten Strikes
By Erik Loomis
In crystalline narratives, labor historian Erik Loomis recounts ten critical strikes that pull the curtain back on labor's struggles, giving us a fresh perspective on American history from the boots up. From the Lowell Mill Girls strike in the 1830s to Justice for Janitors in 1990, these labor uprisings do not just reflect the times in which they occurred, but speak directly to the present moment.
Loomis is also the author of Out of Sight, which follows the thread of labor and environmental harm  from the Triangle Shirtwaist Factory fire in New York in 1911 to the collapse of the Rana Plaza factory building outside of Dhaka, Bangladesh, in 2013.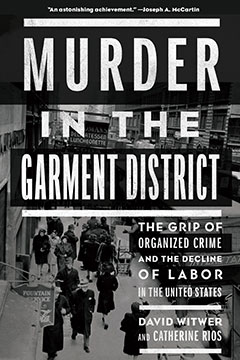 Murder in the Garment District: The Grip of Organized Crime and the Decline of Labor in the United States
By David Witwer and Catherine Rios
The thrilling and true account of racketeering and union corruption in mid-century New York, when unions and the mob were locked in a power struggle. Deeply researched and grounded in the street-level events that put people's lives and livelihoods at stake, Murder in the Garment District explains the current troubled state of unions in America.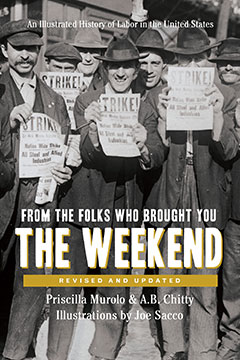 From the Folks Who Brought You the Weekend: An Illustrated History of Labor in the United States
By Priscilla Murolo and A.B. Chitty, illustrations by Joe Sacco
From indentured servants and slaves in seventeenth-century Chesapeake to high-tech workers in contemporary Silicon Valley, this comprehensive history of labor in the United States explores the efforts of working people to win the rights we take for granted—basic health and safety standards, fair on-the-job treatment, minimum wage, and weekend leisure.
Working: People Talk About What They Do All Day and How They Feel About What They Do
by Studs Terkel
Studs Turkel chronicled most of the twentieth century and is best remembered for his oral histories and his skill as an interviewer. Working, which consists of over one hundred interviews, is one of his classic books. Working provides a fascinating look at jobs and the people who do them, from gravediggers to studio heads, providing a timeless snapshot of people's feelings about their working lives, as well as a lasting look at how work fits into American life.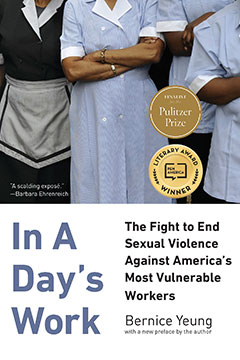 In A Day's Work: The Fight to End Sexual Violence Against America's Most Vulnerable Workers
By Bernice Yeung
Winner of the 2018 Goddard Riverside Stephan Russo Book Prize for Social Justice and a finalist in nonfiction for the 2019 Pulitzer Prize, In a Day's Work takes readers on a journey across the country, introducing us to women who came to America to escape grinding poverty only to encounter sexual violence in the United States. Yeung exposes the underbelly of economies filled with employers who take advantage of immigrant women's need to earn a basic living. When these women find the courage to speak up, Yeung reveals, they are too often met by apathetic bosses and under resourced government agencies. But In a Day's Work also tells a story of resistance, introducing a group of courageous allies who challenge dangerous and discriminatory workplace conditions alongside aggrieved workers—and win. Moving and inspiring, this book will change our understanding of the lives of immigrant women.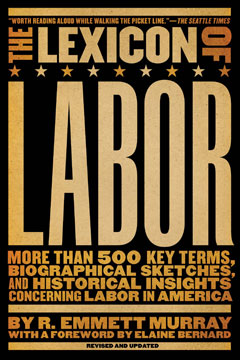 The Lexicon of Labor: More Than 500 Key Terms, Biographical Sketches, and Historical Insights Concerning Labor in America
By R. Emmett Murray, with foreword by Thomas Geoghegan
The perfect introduction to the history of labor in America. From Frederick Douglass to César Chavez, from the Haymarket Riots in 1886 to the Change to Win federation formed in 2005, this classic labor lexicon provides concise, enlightening sketches of over five hundred key places, people, and events in American labor history.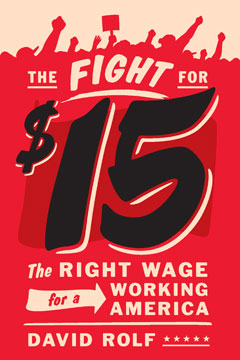 The Fight for Fifteen: The Right Wage for a Working America
By David Rolf
The fight for a higher minimum wage has become the biggest national labor story in decades. Beginning in November 2012, strikes by fast food workers spread across the country. Combining history, economics, and commonsense political wisdom, The Fight for Fifteen makes a deeply informed case for a national $15/hour minimum wage as the only practical solution to reversing America's decades-long slide toward becoming a low-wage nation.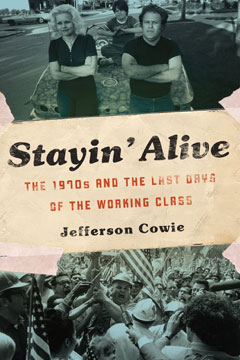 Stayin' Alive: The 1970s and the Last Days of the Working Class
By Jefferson Cowie
This wide-ranging cultural and political history rewrites the 1970s as the crucial, pivotal era of our time. Taking us from the factory floors of Ohio, Pittsburgh, and Detroit, to the Washington of Nixon, Ford, and Carter, Cowie reveals America's fascinating path from rising incomes and optimism of the New Deal to the widening economic inequalities and dampened expectations of the present.
Blog section: