The New Press Congratulates Abdulrazak Gurnah on the 2021 Nobel Prize in Literature
Wednesday, October 13, 2021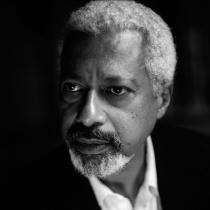 Abdulrazak Gurnah was announced by the Nobel Committee as this year's winner of the esteemed international literature prize. The award cited Gurnah's "uncompromising and compassionate penetration of the effects of colonialism and the fate of the refugee in the gulf between cultures and continents." Born in 1948 in Zanzibar, off the east coast of Africa, Gurnah is Emeritus Professor of English and Postcolonial Literature at the University of Kent, and is the author of 10 novels.
The New Press published Gurnah's novel Paradise in 1994, two years after the Press's founding. That book was short-listed for the Booker Prize and the Whitbread Award. The New Press went on to publish two additional novels, By The Sea, shortlisted for the LA Times Book Prize, and Admiring Silence, which Kirkus Reviews called "beautifully calibrated" and The New York Times called "corrosively funny and relentless."  Gurnah's books were published as part of The New Press's international literary fiction publishing program, which was supported by The Andrew Mellon Foundation and The Lila Wallace Foundation.  The program was designed to introduce to American audiences voices from less-well-known parts of the world, and included works from Africa and the African diaspora, Eastern Europe, and Latin America.  Authors in the program included Prix Goncourt- and Dublin Impac Literary Award-winner Tahar Ben Jelloun of Morocco, Windham Campbell Lifetime Achievement Award-winner Zoe Wicomb of South Africa, and Booker Prize-finalist Romesh Guneskera of Sri Lanka.
News of the Nobel Prize comes on the heels of an astounding year for The New Press: in 1995, one year after publishing Gurnah's Paradise, The New Press published Critical Race Theory: The Key Writings That Formed the Movement, edited by Kimberle Crenshaw, et al.  That book too has re-emerged twenty-five years later as a lightning rod in the current debates about race in America. And, in the wake of the protests around police brutality following the murder of George Floyd in 2020, another New Press title, The New Jim Crow by Michelle Alexander, first published ten years earlier, helped explain structural racism to the country, selling a quarter million copies in the months following the protests. 
Founded in 1992, The New Press publishes books that promote and enrich public discussion and understanding of the issues vital to our democracy and to a more equitable world. These books are made possible by the enthusiasm of our readers; the support of a committed group of donors, large and small; the collaboration of our many partners in the independent media and the not-for-profit sector; booksellers, who often hand-sell New Press books; librarians; and above all by our authors, including Abdulrazak Gurnah, Kimberle Crenshaw, and Michelle Alexander. The New Press is proud to be the publisher of early books by Gurnah in the United States and congratulates Gurnah's other publishers—Grove/Atlantic, Pantheon, and Bloomsbury, Gurnah's current publisher—with whom we are happy to share the honor.
Blog section: