Congressman Jamie Raskin to Receive New Press Social Justice Award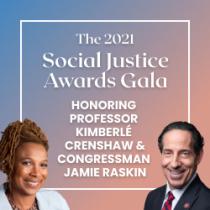 Congressman Raskin will be honored in New York City on November 9, 2021, at The New Press Social Justice Awards
We're pleased to announce that Congressman Jamie Raskin (D-MD), the constitutional scholar, activist, and lead impeachment manager in the House of Representatives, will receive a New Press Social Justice Award for upholding democratic norms and the rule of law in the House's prosecution of Donald Trump's second impeachment trial for inciting the January 6 insurrection.
The New Press Social Justice Awards offer a pause from the busy publishing work we do year-round as we honor important champions of social justice and recognize their contributions to equity, inclusion, and justice. As an independent, public-interest publisher, our mission is to publish authors overlooked by corporate publishers, cultivate critical new voices, and mainstream ideas that reframe how we see the world. The 2021 Social Justice Awards will take place in New York City on November 9, 2021.
Past Social Justice Award recipients have included Alice Walker, Bryan Stevenson, Joseph Stiglitz, Anna Deavere Smith, Toni Morrison, Harry Belafonte, Sherrilyn Ifill, Pete Seeger, and Charles M. Blow, among others.
A Media Model Built for Change
Like PBS (television) and NPR (radio), The New Press (books) operates in the public interest. Books are a vital part of the media ecosystem and happen to be ideal for driving narrative change. Why? Because books put forth cogent arguments and unlock significant media coverage; this media coverage amplifies a book's ideas and arguments, and these new ideas allow for meaningful narrative shifts over time—often opening doors to greater inclusion, expanded notions of justice, and renewed commitments to equity. Like a force applied to a fulcrum, books leverage mass media to elevate new possibilities, and The New Press strategically publishes to generate this force.
As a leading nonprofit, public-interest publisher, The New Press commissions vital new works, shapes important ideas for mass audiences, and strives to build national platforms for activists, emerging leaders, and public intellectuals whose contributions aren't yet widely recognized.
Help Honor Rep. Jamie Raskin
The New Press Social Justice Awards differ from traditional galas in that they're fun yet substantive, and involve a gathering of readers, writers, thinkers, and publishers who come together to celebrate the social impact of the art form of book publishing. The Social Justice Awards also serve a crucial annual fundraising role that sustains our public-interest publishing operations each year.
There are many ways our readers can support the work The New Press does:
Even in today's digital age, books continue to anchor our understanding of the world, fuel personal and political change, foster community and connection, and challenge long-held assumptions about what's socially just, politically feasible, or historically acceptable.
Thanks for being a part of this community of individuals who care deeply about equity, inclusion, and justice.
Blog section: