The New Press Remembers James Ridgeway
Tuesday, February 16, 2021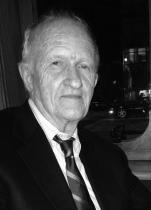 JAMES RIDGEWAY
November 1, 1936–Saturday, February 13, 2021
The New Press is deeply saddened to note the passing of pioneering investigative journalist James Ridgeway. In a career that spanned more than a half-century, Ridgeway wrote for storied publications like theVillage Voice, Mother Jones, the New York Times, the New Republic, and the New York Review of Books in pieces that exposed corporate corruption, far-right movements, and the horrors of solitary confinement in prisons.
Over the last decade Ridgeway turned his attention on the corrections system, founding Solitary Watch in 2009, with his long-time collaborator Jean Casella. The only site dedicated to covering solitary confinement, Solitary Watch publishes with a mission to document the use and abuse of this importarnt human rights issue with exposes, articles that explain research, and first-person accounts written by people have been in solitary confinement about their experiences. These first-person accounts were published in the anthology Hell Is a Very Small Place, which James Ridgeway co-edited with Jean Casella and Sarah Shroud, alongside writing by noted experts about the psychological, legal, ethical, and political ramifications of solitary confinement. The San Francisco Chronicle called book "elegant but harrowing." In the introduction to Hell Is a Very Small Place Ridgeway and Casella write: "Those who endure solitary have long been buried, nameless and voiceless, in the dark heart of the American criminal justice system." Ridgeway's work as a journalist and with Solitary Watch shared the names of those who endured, helped elevate their voices, and exposed the injustices and cruelties of the justice system.
Read the obituary in the New York Times.
Blog section: