Independent Bookstore Day 2023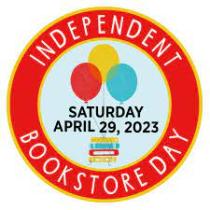 Indie bookstores play a vital role in their communities. They are cultural anchors, venues for conversation, places of discovery, learning, and convening. This Saturday, April 29th is Independent Bookstore Day. A day to celebrate and show some love to your favorite bookstores. We're celebrating Indie Bookstore Day by revisiting events hosted by our indie bookstore friends. Discover a new book, join the conversation, and visit your local bookstore.
*     *     *     *     *     *     *     *     *     *
Politics and Prose in Washington, D.C. hosted a launch event for When the Smoke Cleared by Kyla Sommers. Sommers discussed the book, the 1968 rebellions that followed the murder of Dr. Martin Luther King Jr., and D.C.'s past, present, and future with longtime WAMU radio host Kojo Nnamdi and political analyst and Washington City Paper contributor Tom Sherwood.
Charis Books & More in Decatur, GA hosted a virtual event with authors Amanda Freeman and Lisa Dodson for their book Getting Me Cheap: How Low-Wage Work Traps Women and Girls in Poverty, a riveting portrait that explores the way the American dream is built on the backs of working poor women. Freeman and Dodson were joined in conversation by Leng Leng Chancey.
Senator Sheldon Whitehouse, co-author of The Scheme, pulls back the curtain on the powerful and hidden apparatus of dark money that has been used to corrupt our politics, control our courts, and degrade our democracy. Whitehouse discussed the book with New Yorker staff writer Jane Mayer at Politics and Prose in D.C.
Left Bank Books in St. Louis, MO hosted a conversation with journalist and author Sherry Boschert to discuss her book 37 Words and the history and legacy of Title IX, the landmark federal legislation that prohibits sex discrimination in education.
The Center for Fiction in Brooklyn, NY hosted writer and human rights researcher Matt Easton for a discussion about his book We Have Tired of Violence, a chilling work of true crime about the midair murder of Indonesian human rights activist Munir. Easton was joined in conversation by ProPublica deputy managing editor Eric Umansky and Suciwati, Munir's widow and the founder of the Munir Human Rights Museum.
Journalist and author Ruth Conniff discussed her book Milked: How an American Crisis Brought Together Midwestern Dairy Farmers and Mexican Workers, a compelling portrayal of the lives of farming communities on either side of the U.S.-Mexico border and the surprising connections between them, in an event with The Progressive magazine and A Room of One's Own Bookstore in Madison, WI.
City Lights Bookstore in San Francisco, CA hosted editors Dahr Jamail and Stan Rushworth for a conversation about We Are the Middle of Forever and the perspectives of Indigenous Americans on today's environmental crisis with interviewees Melissa K. Nelson, Shannon Rivers, and Kyle Powys Whyte.
Susan Linn's Who's Raising the Kids?: Big Tech, Big Business, and the Lives of Children is a "stunning examination of how marketing, technology, and consumer capitalism impact the well-being of children" (Publishers Weekly, starred review). Linn discussed the book with her sister, librarian Nancy Pearl, at an event with Town Hall Seattle and bookstore partner Third Place Books. Their conversation was recorded for the television show Book Lust with Nancy Pearl.
Allow Me to Retort by Elie Mystal is an easily digestible argument about what rights we have, what rights Republicans are trying to take away, and how to stop them. The Harvard Book Store, a local bookstore in Cambridge, Massachusetts, hosted an event for Allow Me to Retort, where Mystal was joined in conversation by The Nation's national affairs correspondent Joan Walsh.
Busboys and Poets in Washington, D.C. hosted a virtual event for Getting Me Cheap with authors Amanda Freeman and Lisa Dodson, in conversation with Wendy Chun Hoon and Sammy Chavin-Grant, to discuss the book and how America traps millions of women and their children into lives of stunted opportunity and poverty.