The Horror of Sundown Towns in HBO's "Lovecraft Country"
Thursday, August 20, 2020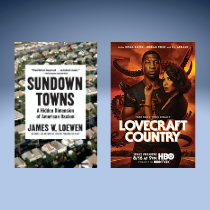 The first episode of "Lovecraft Country," a new sci-fi/horror series from Jordan Peele, Misha Green, and J.J. Abrams, premiered on Sunday, and it has since sparked a conversation about a classic New Press book—Sundown Towns by James Loewen. 
The episode, aptly titled "Sundown," follows protagonist Atticus, his childhood friend Letitia, and his uncle George on a road trip from Chicago to Massachusetts in search of Atticus' missing father. While they look for a missed turn in a wooded area, a police officer pulls up behind the group to inform (and threaten) them that they are in a sundown town and have only seven minutes left until the sun sets. If they're within county lines after dark, they will be lynched. In their race to escape, they discover that segregation laws are not the only thing they have to fear after the sun goes down. 
James Loewen's book, the first ever written on the subject, exposes the harsh reality of these sundown towns. In his research, he discovered thousands of cities, towns, and whole counties across the country that were off limits to African Americans after sundown, often enforcing the policy with harassment or violence. While most of these prohibitions have relaxed in recent years, some remain, and many former sundown towns still exhibit second-generation sundown town issues, like all-white police forces and teaching staffs.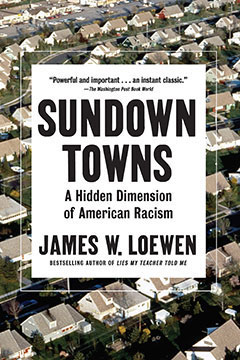 Many sundown towns have become sites for BLM rallies in the recent months. 
"Lovecraft Country" is based on a book of the same name. Its author, Matt Ruff, recommended Sundown Towns as part of the reader's guide for his novel, and it would serve as a helpful companion to the series as well. In fact, Loewen says that the episode is one of few representations of sundown towns that gets a crucial detail right—they were primarily situated in the north. This part of America's ongoing racist history was not widely known or discussed prior to Loewen's work, and representations in popular media like this serve as an important reminder that racism was never just a southern problem. 
The show is clearly well-researched and packed with historical references. Atticus is an avid pulp fiction reader, but he frequently is forced to acknowledge the painful prejudices and stereotypes within the genre. When the group stops at a gas station, they are shown in front of a large billboard featuring Aunt Jemima, a nod to the recent controversy over the brand. In another scene, Atticus enters a bar named "Denmark Vesey's Bar" after the Black revolutionary who plotted a massive slave insurrection in 1822—about whom you can read more in Ethan J. Kytle and Blain Roberts' Denmark Vesey's Garden.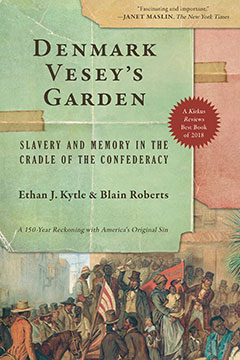 With its racial horrors equaling its paranormal horrors, the series presents an excellent opportunity to start conversations and learn more about America's history of injustice. And with a main character who loves to read, there's no better place to start than picking up a book.