Champions of Literacy, an online event with Literacy Partners
Tuesday, October 13, 2020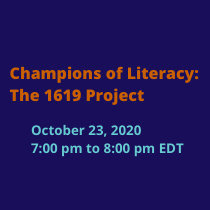 Literacy Partners, an adult education non-profit based in New York City with programs across the country, is hosting a series of online events focusing on racial and social justice. On October 23rd at 7:00 pm ET, Literary Partners will host "Champions of Literacy," an event celebrating the New York Times Magazine's 1619 Project. This ongoing project has worked to reframe U.S. history by placing the consequences of slavery and the contributions of Black Americans at the center of our national narrative.
The "Champions of Literacy" event brings together New York Times reporter (and creator of the 1619 Project) Nikole Hannah-Jones for a dialogue with Kimberlé Crenshaw, a renowned scholar and co-editor of Critical Race Theory: The Key Writings That Formed the Movement. The conversation will be moderated by Darren Walker, president of the Ford Foundation.
The New Press is proud to partner with Literacy Partners to make this important conversation possible. Tickets and further information about the "Champions of Literacy" event can be found on their website.