Celebrating the Legacy of Studs Terkel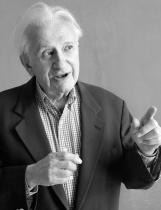 Studs Terkel, the legendary author and oral historian, was born 111 years ago this week. Born on May 16th in 1912, Terkel defined broadcast journalism in the mid-20th century with his radio program "
The Studs Terkel Program
" and went on to write some of the most famous oral histories of his time, with the encouragement of New Press founding director
André Schiffren
. Terkel stood witness to some of recent history's most difficult and most formative moments, from the Great Depression to the Civil Rights Movement.
In
Working: People Talk About What They Do All Day and How They Feel About What They Do, 
Terkel turned his attention toward workers to offer compelling and fascinating look at jobs and the people who do them. The book consists of over one hundred interviews conducted with everyone from gravediggers to studio heads, that provides a timeless snapshot of people's feelings about their working lives, as well as a relevant and lasting look at how work fits into American life.
"When I was in college, I came across the book Working by Studs Terkel. It was a chronicle of people from every walk of life, and the work they did. Reading those stories, I started to consider my own place in the world, and understand how connected we are to one another. The book helped inform the choices I made in my own work. And in this current moment of great change, when we are all trying to figure out what the future holds, I thought it would be useful to pick up Studs' project and go looking for the types of stories that shaped my life all those years ago."
This week, Netflix launches docuseries
Working: What We Do All Day
, hosted by Barak Obama, inspired by Studs Terkel's classic book, to look at how work fits into American life today.
As we celebrate Terkel's birthday this week, explore a
reading list
of essential works, an
excerpt
from his memoir,
Touch and Go
,
quotes
, and tune-in to Obama's series to see how the legacy of Terkel's work continues to inform and inspire.
*Studs Terkel photo credit: Nina Subin.