Allow Me to Retort on Abortion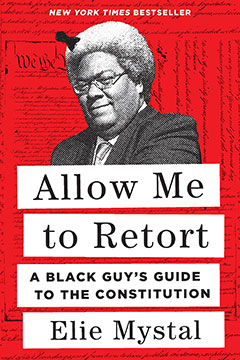 Elie Mystal's New York Times bestseller Allow Me to Retort channels Mystal's trademark humor, expertise, and rhetorical flair to explain why Republicans are wrong about the law almost all of the time. Despite what conservatives would have you believe, the Constitution is not gospel. It is an imperfect document that is in dire need of updating. Over the last few decades the Republican party has elevated conservative activists to all levels of federal and state courts to push a narrow interpretation of our founding document, slowly rolling back what little progress we've made.
"The Abortion Chapter" in Allow Me to Retort dives into the Supreme Court's history on reproductive rights. In the wake of the Supreme Court's leaked Dobbs v. Jackson Women's Health Organization draft opinion and the future of Roe v. Wade on the line, we're sharing that chapter in the excerpt below.
Blog section: