A Post-Midterm Analysis from New Press Author William Kleinknecht
Wednesday, December 14, 2022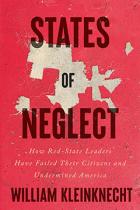 For the New Press blog, veteran journalist William Kleinknecht offers important takeaways from the midterm elections, reflecting on what progressives can learn from gains and losses alike.
Kleinknecht's upcoming book States of Neglect: How Red-State Leaders Have Failed Their Citizens and Undermined America (February 21, 2023) tells us the deep story of the red-state/blue-state divide, investigating regimes that have spent years starving education and health care, empowering polluters, engaging in voter suppression, and neglecting their citizens' well-being in the interest of cutting taxes for the wealthy.
Gerrymandering in the red states cost the Democrats control of the House. New York State's highest court threw out an attempt by Democratic leaders to impose a redistricting scheme that favored their party. The court instead appointed a special master whose district maps—fairly or unfairly, depending on who you ask—created several new Republican-leaning districts and enabled the GOP to flip four seats in the state. A non-partisan redistricting commission in California drew maps without interference by the Democrat-dominated legislature.
But no such judicial or ethical restraints stood in the way of Republican gerrymandering in Florida, Texas, Georgia, Louisiana, and other red states, which resulted in the redrawing of once-Democratic districts. In most cases, courts found the new districts unconstitutional, but higher courts dominated by conservatives allowed them to stand. If those districts had not been illegally redrawn, Democrats would have kept the House by a comfortable margin.
Democratic victories in state legislative races in Michigan and Pennsylvania are a bulwark for democracy. The Republicans' loss of both the state House and Senate in Michigan and the Democrats' new control of the House in Pennsylvania likely preclude any possibility of legislative attempts to subvert the results of the 2024 presidential election in two important swing states. This is especially important as the U.S. Supreme Court prepares to issue an opinion in Moore v. Harper, a case in which North Carolina's Republican legislative leadership is arguing that state legislatures have exclusive authority to set rules for federal elections with no role by the executive branch and no ability by state courts to interpret whether those rules are constitutional. Many advocates fear the Supreme Court's conservative majority will side with the North Carolina GOP, which could leave state legislatures free to gerrymander, suppress voting, and even throw out election results without interference from state courts. While the midterms seem to have eliminated that threat to democracy in Pennsylvania and Michigan, legislatures in other important swing states, such as Arizona, Georgia, and Wisconsin, are still controlled by Republican majorities with sizable contingents of election deniers.
Voter suppression may have influenced election results in the South, but more study is needed. While the mainstream media focused on Georgia's record turnout in early voting, less attention was paid to disappointing overall turnout, when election day is included. Preliminary results showed that 51 percent of registered voters in Georgia cast ballots in the 2022 midterms, compared to 57 percent in 2018. But there were also 900,000 more registered voters in the state than there were four years ago, which mean that similar numbers of Georgians went to polls in 2018 and 2022. The percentage of voters who turned out for the midterms fell short of 2018 in all but seven states, but turnout was especially poor in Tennessee, Mississippi, and Alabama. Whether new laws aimed at depressing Black turnout in those three states and Georgia made a difference is an issue in urgent need of examination.
Governor Ron DeSantis's landside win in Florida is a victory for demagoguery and poor governance. DeSantis has built a political movement around divisive issues like immigration, critical race theory, and transgender rights, which he uses to distract voters from Florida Republicans' dismal record on health care and education, and a state tax code and tax enforcement that blatantly favor the wealthy.
William Kleinknecht is a longtime newspaper reporter who covered politics, government, criminal justice, and the environment for the Detroit Free Press, New York Daily News, and Newark Star-Ledger. The author of The Man Who Sold the World: Ronald Reagan and the Betrayal of Main Street America, The New Ethnic Mobs: The Changing Face of Organized Crime in America, and States of Neglect: How Red-State Leaders Have Failed Their Citizens and Undermined America (The New Press), he lives in Ridgewood, New Jersey.
Blog section: