Author Events Replay: August & September 2020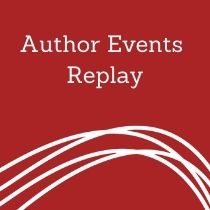 We might not be able meet in the real world, but online events have been able to bring more of us together and have provided an opportunity for far-flung conversations. Attending an event with your favorite author is no longer constrained by time or location. Readers can join live conversations halfway across the world or watch recordings after they've had a chance to finish reading a book.
Below we share a few events with our authors from August and September. Learn more about history and criminal justice reform and discover your next read.
*     *     *     *     *     *     *     *     *     *
The Beginning or the End: How Hollywood—and America—Learned to Stop by Greg Mitchell
On the eve of the anniversary of the devastation of Hiroshima, author Greg Mitchell joined filmmaker Rod Lurie, director of The Outpost, to discuss the MGM film The Beginning or the End, how the U.S. government subverted the film's production, and the political and media manipulations of the "Hiroshima narrative" that persist today.
Administrations of Lunacy: Racism and the Haunting of American Psychiatry at the Milledgeville Asylum by Mab Segrest
In an event with the Atlanta History Center, author Mab Segrest discusses the Georgia State Lunatic, Idiot, and Epileptic Asylum and the racist origins of psychiatry, while tracing connections to today's dissident psychiatric practices that offer sanity and create justice.
Blood on the River: A Chronicle of Mutiny and Freedom on the Wild Coast by Marjoleine Kars
Drawing on hundreds of forgotten transcripts, Blood on the River recounts the story of the 1763 slave rebellion in the former Dutch colony of Berbice (located in present-day Guyana). In this online event author Marjoleine Kars discusses the revolt that nearly changed the face of the Americas with historian and author Claudio Saunt.
What We Know: Solutions from Our Experiences in the Justice System edited by Vivian Nixon and Daryl V. Atkinson
Co-editor Vivian Nixon discusses ideas for improving America's criminal justice system presented in What We Know, the role technology plays in this effort, and more in a Talks at Google event moderated by Malika Saada Saar, Google's Senior Counsel on Civil and Human Rights.
Use the Power You Have: A Brown Woman's Guide to Politics and Political Change by Pramila Jayapal
In an online event with the King County Library System, Congresswoman Pamila Jaypal discusses her new book with former Seattle City Councilmember Nick Licata. Part memoir, part political manual, Use the Power You Have retraces Jayapal's path from sixteen-year-old Indian immigrant to grassroots activist, state senator, and now progressive powerhouse in Washington, DC.
12 Angry Men: True Stories of Being a Black Man in America Today edited by Gregory S. Parks and Matthew W. Hughey
Featuring selections from 12 Angry Men, The Billie Holiday Theatre presented a special performance of "12 Angry Men...and Women: The Weight of the Wait" to tell stories of the policing of Black men and women read and performed by an award-winning cast, including Wendell Pierce (The Wire), Lisa Arrindell (The Immortal Life of Henrietta Lacks), and Billy Eugene Jones (A Soldier's Play).
Prison by Any Other Name: The Harmful Consequences of Popular Reforms by Maya Schenwar and Victoria Law
Authors Maya Schenwar and Victoria Law join Stacey Thompson and organizers from The Steady Collective and Blue Ridge Anarchist Black Cross for a virtual discussion of their book and the harms of much-touted "alternatives" to incarceration.
The End of Ice: Bearing Witness and Finding Meaning in the Path of Climate Disruption by Dahr Jamail
In an online event with Club Book and the Saint Paul Public Library, acclaimed journalist Dahr Jamail discusses the importance of grief, climate disruption, and his book.
*     *     *     *     *     *     *     *     *     *
Check out our events page to find out about upcoming live events with our authors.