2020 Graduates: The World Is Waiting for You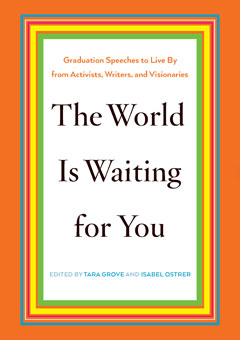 With graduation season kicking off around the country, graduating seniors may be grappling with unique challenges—fear and uncertainty in the face of a struggling economy, grief over the cancelation of classes and traditional ceremonies—but, hopefully, they are also feeling well-deserved pride, achievement, and hope for the future. Their commencement speakers, who will likely be addressing them through computer screens, have the difficult task of preparing a bunch of young adults for "the rest of their lives."  An even more challenging task this year. Fortunately, there are a number of deeply moving past commencement speeches to turn to for a little extra inspiration and guidance.
The best graduation speeches captivate. They rile us up, inspire us to conjure our best selves, dare us to answer the call and face the world. The World is Waiting For You, edited by Tara Grove and Isabel Ostrer, compiles eighteen commencement addresses from celebrated thinkers and change-makers, championing peace, hope, justice, and a better world. In honor of the 2020 graduates, we're sharing a few quotes from the book that we hope will help them find hope, inspiration, and the courage to take on the world, chaotic as it may be.
The perfect book for any graduate, we're offering a special discount on The World is Waiting For You through June 30. Details at the bottom of the post.
*     *     *     *     *
Barbara Kingsolver, from "How to be Hopeful":
"The very least you can do in your life is to figure out what you hope for. The most you can do is live inside that hope, running down its hallways, touching the walls on both sides."
Toni Morrison, from "The Pursuit of Meaningfulness":
"From my point of view, your life is already a miracle of chance waiting for you to shape its destiny. From my point of view, your life is already artful—waiting, just waiting, for you to make it art."
Theodore M. Shaw, from "Don't Wait to Change the World":
"Hope does not come serendipitously. It is a choice. Choose hope in the face of every reason to give in to cynicism and despair. The things that can sustain you in your life's journey have been taught to us, whatever our traditions are: faith, hope, and love. These are the things that illuminate our lives. The world is waiting. Go and get it."
Chimamanda Ngozi Adichie, from "Allow Hope But Also Fear":
"You'll trip many times. Don't be surprised when you fall. Maybe even lounge in the dirt a little. And then, get up!"
Anna Quindlen, from "Learn Not to Listen":
"But you have to learn to put the fear aside, or at least to refuse to allow it to rule you, because it's fear that tamps down our authentic selves"
Cecile Richards, from "Listen to Your Mother":
"The world we live in can be tough. It can be unjust. But here's the great news: each of you has the power to do something about it. You get to build the world you want to live in. It's not about being perfect, having it all, doing it all. It's about getting started. You've got work to do—so congratulations, and let's get to it."
*     *     *     *     *
Other contributors to The World is Waiting For You include: Wynton Marsalis, Marian Wright Edelman, Noam Chomsky, Gloria Steinem, Tony Kushner, Paul Farmer, Martha Nussbaum, Oliver Stone, Paul Hawken, Isabel Wilkerson, Howard Zinn, and Usula K. Le Guin.
Use promo code "GRAD2020" when purchasing through the link below for 25% OFF (through June 30, 2020)
USE CODE "GRAD2020" AT CHECKOUT FOR 25% OFF (through June 30, 2020)