Read These Next: Recommendations from a New Press Editor
Thursday, December 6, 2018
Each month, New Press staff recommend great books from their own shelves that you should read next. This month, editorial assistant Sarah Swong suggests her favorite social justice books and authors on issues such as #MeToo, Islamophobia, and race.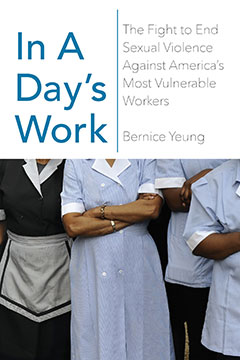 Everyone who cares about the #MeToo movement must read In a Day's Work: The Fight to End Sexual Violence Against America's Most Vulnerable Workers. Bernice Yeung shows us exactly how those most at risk of sexual abuse in the workplace—undocumented immigrant farm workers, domestic workers, and janitorial workers—are taken advantage of, with little recourse or protection available to them under our existing legal system. Yeung's expert reportage, clear-eyed analysis of the law, policy, and activism surrounding the issue, and relentless compassion for her subjects makes this a genuinely informative and profoundly inspiring read. It also makes clear what it will take to build a future free from workplace harassment and assault.
I first came across Khaled Beydoun's work on Twitter, where he writes wonderfully sharp dispatches on race, religion, pop culture, the media, and American politics. His book American Islamophobia: Understanding the Roots and Rise of Fear is equally on fire. A critical race theorist, law professor, and activist, Beydoun defines Islamophobia as "a system of bigotry not only endorsed and emboldened by law, but also carried out by government actors." He shows how Islamophobia has grown and changed since colonial times and explains what Islamophobia looks like today, with a heavy focus on anti-Muslim sentiment and policy from the end of the Cold War through the ongoing War on Terror. His argument about the link between Islamophobia and anti-blackness is especially eye-opening. 
Dorothy Roberts is a legend in the fields of gender, race, and constitutional law. In Fatal Invention: How Science, Politics, and Big Business Re-create Race in the Twenty-first Century, she turns to the modern legal and scientific revival of genetic theories of race—that is, the myth that humans are naturally divided into races. She challenges the biological definitions of race and citizenship upon which so much law and policy depends, connects the dots between genetic surveillance and the criminal justice and immigration systems, reveals the profit motive behind the resurgence of these ideas, shows how real people suffer at the hands of medical, race-based stereotyping, and much more. The writing is astonishingly lucid for something of such intellectual complexity and originality. I can't recommend Dorothy Roberts enough.