The New Press Remembers Luisa DeLauro
Tuesday, September 12, 2017
LUISA DeLAURO (1913–2017)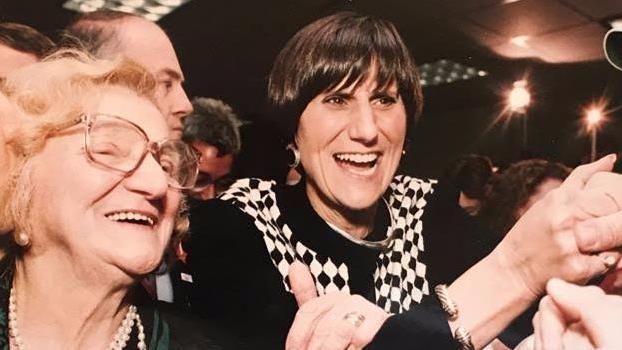 Luisa DeLauro with her daughter, US Rep. Rosa DeLauro (Courtesy of Rosa DeLauro's Office)
 
We don't normally note the passing of our authors' parents, but Luisa DeLauro, Congresswoman Rosa DeLauro's mother, who died on Saturday in New Haven at age 103, was no ordinary mother.
As Daniela Altimari reported in The Hartford Courant, Luisa DeLauro led a remarkable life. A shrewd politician in her own right, she was the longest serving member of the New Haven Board of Aldermen in the city's history, where she was first elected in 1965 and went on to serve for 35 years.  Born on December 24, 1913, Luisa DeLauro was the third of Cesare and Luisa Canestri's six children. She grew up in the heart of New Haven's Italian American community and spent most of her childhood in her mother's pastry shop, Canestri's. Her civic contributions to New Haven and to Connecticut are innumerable.
Rosa DeLauro said in a statement that her mother was her biggest booster and greatest inspiration. "I will miss her greatly. She taught me the most valuable of lessons of my life," Rosa DeLauro said. "She understood that politics was an avenue for change—a way to help people who were struggling. It is truly the blessing of a lifetime to have been able to follow in her footsteps, to serve the people of New Haven and Connecticut."  She added, "My mother was no stranger to hard work. When I was growing up, she worked in a sweatshop, sewing shirt collars for pennies. Every day after school, she would make me come by to see the horrible, cramped conditions. It is something I will never forget. The lesson she passed on was clear: work hard. Make something of yourself. Get a good education."
The legacy that she passed on to her daughter can be found in the important and courageous work that Congresswoman DeLauro does every day, defending the social safety net, fighting for fairness and dignity for all, and speaking truth to power.  It can also be found in the pages of Congresswoman DeLauro's inspiring book, The Least Among Us: Waging the Battle for the Vulnerable, which is dedicated to her parents, to her husband, and to her grandchildren, in whom the great legacy and example set by Luisa DeLauro will live on.  We extend our condolences to the entire DeLauro clan and also to the people of New Haven, CT, where multiple generations of residents knew and were touched by Luisa DeLauro's wonderful and generous life.  The world is a better and far richer place because of her.