Meryl Streep sends copies of Equal Means Equal to Congress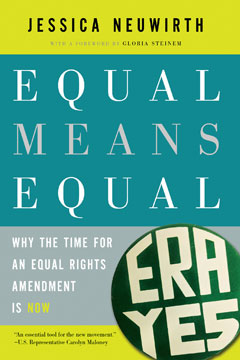 Last week, actress Meryl Streep urged lawmakers to support a constitutional amendment guaranteeing equal rights for women by sending every member of Congress a personally signed letter and a copy of The New Press book Equal Means Equal: Why the Time for an Equal Rights Amendment Is Now by Jessica Neuwirth, president of the ERA Coalition. "I am writing to ask you to stand up for equality—for your mother, your daughter, your sister, your wife or yourself—by actively supporting the Equal Rights Amendment," Streep wrote in her letter. "The ERA is not just a women's rights issue; it will have a meaningful benefit for the whole human family." This is the latest high-profile exposure for the book, which includes interviews with Neuwirth on Tavis Smiley and The Diane Rehm Show.
Equal Means Equal, which includes a foreword by Gloria Steinem, is a smart and timely primer for the movement to provide American women with a constitutional right to equality. In a series of short, accessible chapters looking at several key areas of sex discrimination recognized by the U.S. Supreme Court, the book describes both the legal cases that inform the need for an ERA and the contemporary cases in which women's rights are compromised without the protection of an ERA. Covering topics ranging from pay equity and pregnancy discrimination to violence against women and discriminatory laws, Equal Means Equal makes abundantly clear that an ERA will improve the lives of real women living in America.