Journalist David Dayen's forthcoming Chain of Title named the latest winner of the Studs and Ida Terkel Prize
Thursday, September 24, 2015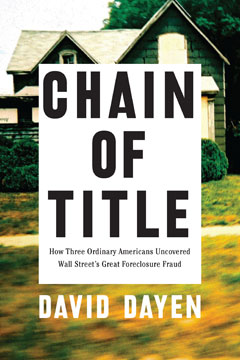 The New Press is pleased to announce that Chain of Title: How Three Ordinary Americans Uncovered Wall Street's Great Foreclosure Fraud by David Dayen, to be published in May 2016, is the winner of the 2016 Studs and Ida Terkel Prize. Awarded annually to a first-time author who shares legendary New Press author Studs Terkel's commitment to exploring aspects of America that are underrepresented by mainstream media, the Award was established by Studs and his son Dan on Studs's ninetieth birthday, May 16, 2001.
Chain of Title is the dramatic true story of how, in the depths of the Great Recession, a nurse, a car dealership worker, and a forensic expert helped uncover the largest consumer crime in American history—a scandal that implicated dozens of major executives on Wall Street. They called it foreclosure fraud: millions of families were kicked out of their homes based on false evidence by mortgage companies that had no legal right to foreclose. Dayen, a contributing writer to Salon and a weekly columnist for the Fiscal Times, recounts how these three ordinary Floridians challenged the most powerful institutions in America armed only with the truth. According to Dayen's editor, New Press editorial director Carl Bromley, "Chain of Title is a remarkable work of narrative nonfiction that tells the story of regular Americans who decide to fight rather than fold before Wall Street. Recalling the humanism of Studs Terkel and the idealism of Frank Capra, it is all the more remarkable that it is a debut work."
Previous winners of the Studs and Ida Terkel Award include The Boy Who Could Change the World: The Writings of Aaron Swartz by Aaron Swartz; Hold Fast to Dreams: A College Guidance Counselor, His Students, and the Vision of a Life Beyond Poverty by Beth Zasloff and Joshua Steckel; Lessons from the Heartland: A Turbulent Half-Century of Public Education in an Iconic American City by Barbara J. Miner; Framing Innocence: A Mother's Photographs, a Prosecutor's Zeal, and a Small Town's Response by Lynn Powell; and The Devil in Dover: An Insider's Story of Dogma v. Darwin in Small-Town America by Lauri Lebo.