Featured Indie Bookstore: Bookworks Albuquerque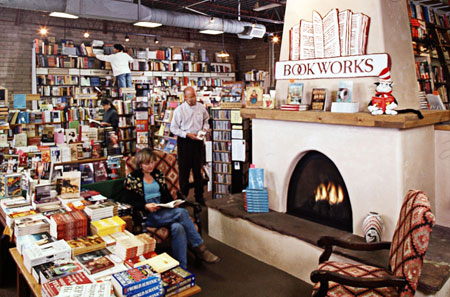 Photo courtesy of Bookworks
The New Press was delighted to host a group of independent booksellers for a visit to our office during BookExpo America in May. Booksellers from five different independent bookstores across the country, including booksellers from Bookworks in Albuquerque, NM, came in to get a tour of our office and hear about upcoming books from our editorial and marketing staff. We followed up with Amanda Sutton, who works on events and marketing for Bookworks, to learn more about her work.
Q: What are your thoughts on independent publishing? Why is it important for readers to be exposed to books that aren't published by the "Big Five" publishers?
A: Independent publishing serves a vital role in our cultural literacy and diversity. Small presses, indie publishers, and university presses, for instance, expose readers to topics, authors, and movements that might not be accessible to them from the larger, more corporate publishers. I have a university press background (nearly 10 years in that industry), so those presses mean a lot to me for what they publish and also for the entree they gave me into the world of publishing.
Q: On a related note, why are independent bookstores important?
A: Indie bookstores really are "third places" in our communities. People spend a lot of time at work and at home, and the "third place" idea of gathering in bookstores, and by extension, coffee shops, pubs, restaurants, and other meeting places, allows a place for like minds (or unlike minds!) to connect in a public forum. Those third-place conversations and collaborations are different and often as important as the work we do at home or in the workplace. Also, most independent bookstores, as third places, host a number of events for readers of all ages from authors from around the world. Online retailers and the big box stores cannot provide those kinds of programming and community partnerships that we indies can.
Q: How did you decide to start working at Bookworks?
A: My background is in university press publishing and book publicity. I got laid off during the economic downturn from a staff publicity position at a publishing house, so I freelanced for 3 years when my son was a baby and toddler. While freelance work was satisfying in its own way, when my son started school I was looking again for full-time work in the publishing industry. The position [at Bookworks] was a perfect segue for me back to full-time work, and while it is my first time working at a bookstore, my experience in book publicity, media relations, and event planning has come in handy here. It's been super fun to meet so many authors I admire this year and become part of the collegial indie bookselling community.
Q: What are you reading right now?
A: I'm re-reading N. Scott Momaday's The Way to Rainy Mountain for a blog post I'm writing about the concept of "home" and I'm trying to finally finish The Goldfinch by Donna Tartt! I also freelance for West End Press, a political poetry press, so I am re-reading Logan Phillips' poetry manuscript Sonoran Strange for publication in the fall. I have Antonya Nelson's Female Trouble waiting in the wings.
Q: How does Bookworks determine its event programming? What have been some of your most successful events?
A: Event programming happens in a number of ways. First, I write many, many proposals to the major houses requesting nationally touring authors I think would draw an audience here. I selfishly request authors I love so I can meet them and take photos with them! No, really, we also have publishers ask us to host authors coming through Albuquerque. Additionally, we host events with hundreds of local authors each year, both self published and those published with traditional presses. In the year and a half I have been here, some of the more successful events we've hosted have included Khaled Hosseini, Sue Monk Kidd, Augusten Burroughs, Nikki Giovanni, and the launch of our new literary series and library fundraiser, A Word with Writers. We hosted Piper Kerman, author of Orange is the New Black, for a fundraiser for the New Mexico Women's Justice Project. That was personally very satisfying not because we sold a ton of books, but because we raised money and awareness for a worthwhile cause (prison reform and advocacy for women prisoners).