Decarcerating America with The Brennan Center for Justice
NYU's School of Law, Vanderbilt Hall
40 Washington Square S,
New York NY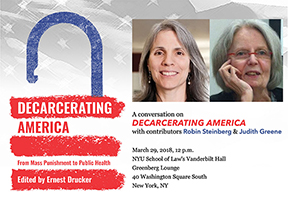 There are a shocking 2.2 million Americans behind bars right now, but how can we cure America of its epidemic of mass punishment? Leaders across the criminal justice movement share an array of reform ideas, including improving prison conditions, creating effective youth re-entry programs, changes to the parole model, alternatives for mental health and drug addiction issues, and models of new industries to replace the prison economy.
Speakers include Robin Steinberg, founder of The Bronx Defenders, and Judith A. Greene, a former Soros senior justice fellow and criminal justice expert, both contributors to Decarcerating America: From Mass Punishment to Public Health, edited by Ernest Drucker. They will be in conversation with Nicole Fortier, Brennan Center counsel in the justice program.
The event is free and open to the public. All are encouraged to RSVP.